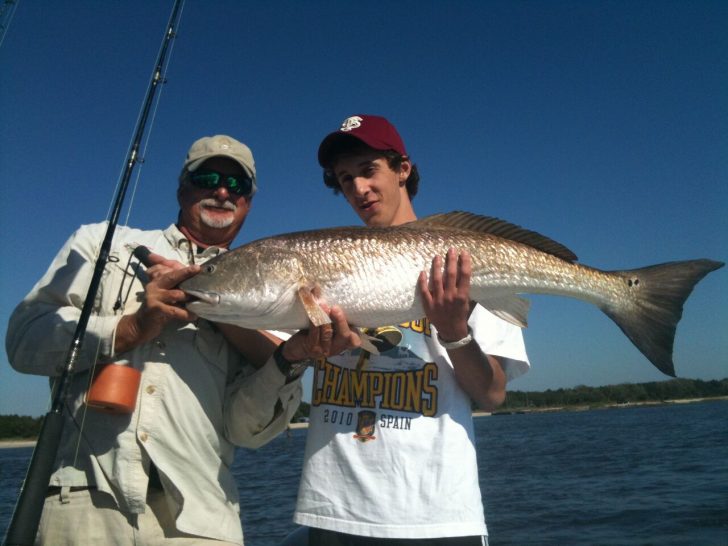 Mayport Report June 2017
The ocean has hopefully calmed down and the resulting dirty water conditions have about phased through by now. The wind in May presented many challenges and had a huge effect on our capability to fish offshore. Large bait pods will generally hold on both sides of the inlet at Mayport this month. These bait schools will hold some cobia, bull reds, barracuda's, sharks, tarpon, triple tail, kings, and jacks. This bonanza gives the angler a great shot at catching large fish close to the beach without having to venture too far .Start off early in the morning jump out of the inlet and look for diving birds. Pelicans and the large white terns are the better hunters so be careful to note if they are diving. This typically indicates the presence of bait. Grab a quick cast net full and begin to look at the edges of the bait schools. I typically look along the edges for free swimming fish and have a medium 7ft Penn SlammerIII  Spinning Reel 4500 spooled with 30lb braid. I like to attach a 3ft length of 60lb fluorocarbon and put a no#6  4x treble hook on the end. Hook the pogies/menhaden thru the nose from side to side and keep it in a 5 gallon bucket full of water. This allows for quick access should you spot a fish. When you do see a fish try to lead the fish by about 5 to 10 ft pitching in front of him so he can see it. It's really important to keep the bait lively. Predators are more likely to attack a frisky bait versus a dead one .It's a good idea to rig another rod with a small length of 40lb wire for cuda's and sharks.
The big rocks will have tarpon, sharks, jacks, Spanish mackerel, trout, and redfish around. Float rigs with small pogies or large live shrimp are deadly on the high early morning out going tides for reds, tarpon and big trout. A small ¼ oz or 3/8 oz jig rigged with a pogie or shrimp also will garner a lot of strikes.
The beach fishing in the southeast hole, the near shore wrecks , near shore ledges, the redtops, shanty town and the Jacksonville beach pier will be great for slow trolling for kings, cobia, sharks, cuda's, sailfish, jacks and a few other species. Pogies or any small fish baits are great for this. Greenies or threadfin herring can usually be jigged off the rocks on the north or south sides of the inlet. Look for dipping birds on the tips of the rocks. A number 6 sabiki rig is usually perfect for this. Slowing trolling with wire kingfish rigs works best and avoids the fish cutting the line.
The offshore action will be hot for trolling or bottom fishing. Red snapper, trigger fish, AJ's, cuda's, kings, grouper, sailfish, and cobia will move into the party grounds. MR, RL, PG, PV, and MG to name a few are great places to check. Cigar minnows and sardines can be jigged up using sabiki rigs for a fresh supply of bait. Bottom fishing with a 3 way swivel works great for bottom fishing and a wire king fish rig is perfect for trolling.
Remember you can't catch 'em from the couch. Capt. Kirk Waltz can be reached at 904.241.7560 or 904.626.1128 or go to www.Enterprisefishingcharters.com or find us on Facebook. Listen to the Outdoorsshow on 1010am or 92.5fm 7am to10am every Saturday for up to date reports on the areas fishing.