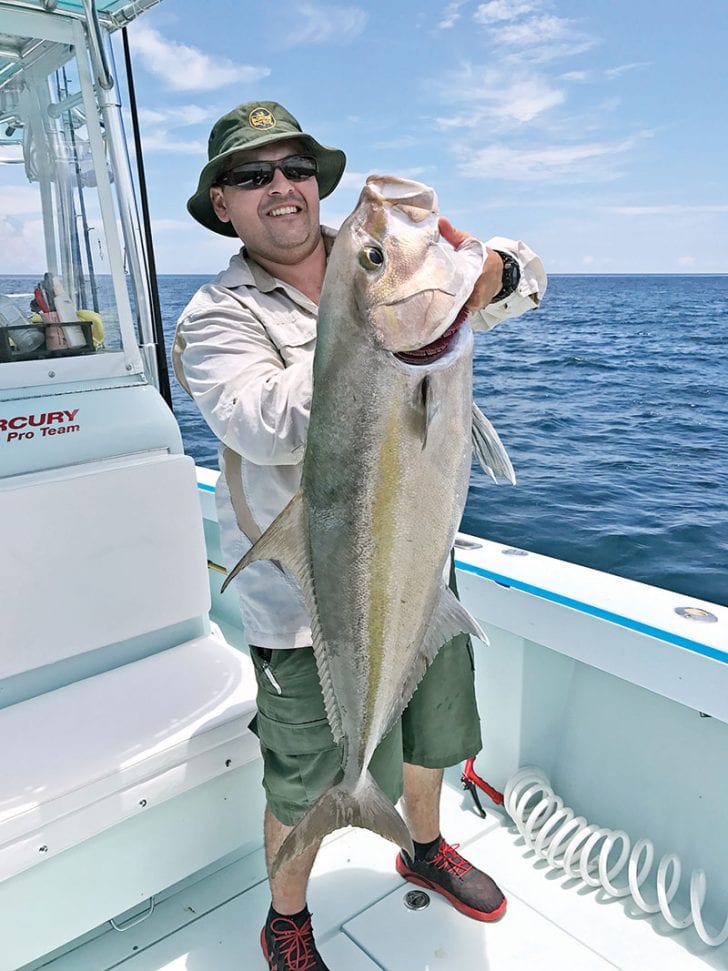 Pretty soon we will be adjusting our clocks as we spring forward. Not only will we gain some extra daylight but the fishing will start ramp up in more ways than one. Sure, we will still be doing a lot of the same things we do during the winter but the number, size and variety of quality gamefish will slowly begin to increase. You can still expect a pretty good sailfish bite, but also expect some cobia, blackfin tuna, smoker kingfish, and monster amberjack to join the party.
Most of these fish will fall prey to live baits drifted, slow trolled or flown off kites. Other fish will be caught while dropping near and around the countless artificial wrecks that line our coast. Exactly what you catch depends on several factors such as what's running, how deep you're fishing and how your bait is presented. So what is the best way to target these fish?
Drifting is a great way to catch sailfish, kings and tunas. Depths from 80 to 200 feet or so should be covered since the best depth fluctuates all of the time. Sails, tunas and mahi are usually found along the edge where greener, shallower water meets deeper blue water. Finding this color change usually leads you to a northbound current. Current is just as important as water quality and color.
Another great technique and one that I really enjoy when conditions are right is anchoring. Dropping the hook up current on a wreck and deploying frozen and live chum will often get the attention of big spring kings and blackfin tuna. Besides drifting baits back, you can also present a bait near the bottom for mutton snapper and or cobia. Both of these tasty species are available in the spring. Although not absolutely necessary, live chumming can often take this type of fishing to the next level.
On days when conditions are less than ideal and none of the glamour species cooperate, you can easily change the game plan and target hard fighting amberjack, aka reef donkeys. Most of the deeper wrecks with significant relief provide shelter to these powerful fish. The drill is pretty simple. Motor up current of the wreck and drop a medium to large bait near the bottom and hold on. Vertical jigs also work well if you don't mind a little cardio.
No matter how you choose to fish, one thing is certain. All of your gear, terminal tackle and knots should be double checked if you plan on successfully landing some of these brutes. One of the reasons that spring is so exciting, is that you can easily hook into a fish of a lifetime. It isn't uncommon to hear of someone hooking a big yellowfin, bluefin and blue or white marlin. All of these fish will find and exploit any weak link between you and the them.
Inshore, tarpon will get a lot of attention and for obvious reasons. Silver kings fight hard, and put on quite a show most of the time. Although some are caught during daylight hours, the vast majority get fooled later in the day when the sun sets. Other inshore possibilities include snook, spanish mackerel, jack crevalle and various types of snapper. I always carry some inshore tackle on the boat for those blustery days when the seas are too rough to venture out safely. Over the years, I have found that for many, this is just as fun or even more fun than running offshore.
If you'd like to get in on the action make sure you book your trip early. You can do so via email, call or even text message. WAlso, don't forget that you can keep up with all of the action by following us on FACEBOOK, Instagram and Twitter. If you prefer to watch some of the action, be sure to check out my YOUTUBE page for the latest video additions.
SPONSORS AND FRIENDS: Mercury Marine, Costa Del Mar, SeaDek, ACRARTEX, Taco Marine, Betts Tackle, Aquatic Nutrition and Costa Oil.
Tight Lines,
CAPT. ORLANDO MUNIZ
Nomad Fishing Charters
786-266-0171
www.fishingchartermiami.com
FRIENDS & SPONSORS: Mercury Marine, Costa Del Mar, SeaDek, ACRARTEX, Taco Marine, Betts Tackle, AquaNutrition and Costa Oil.