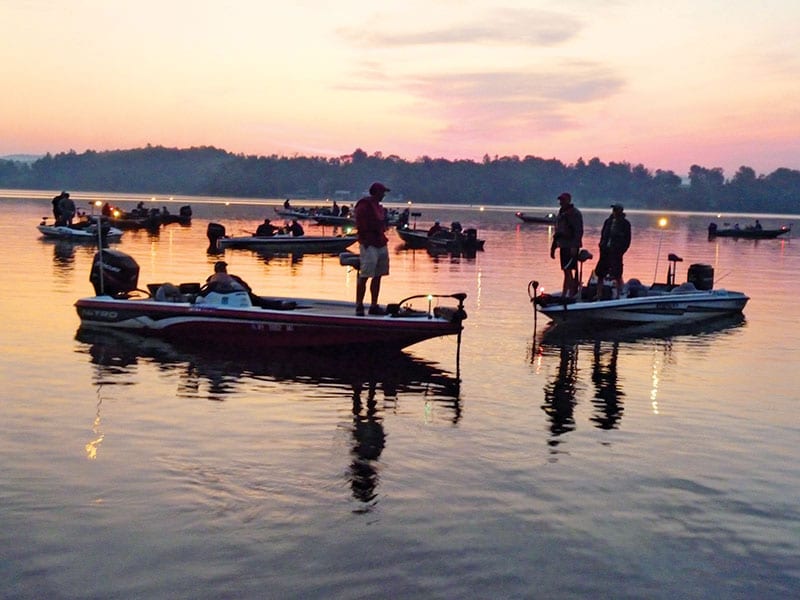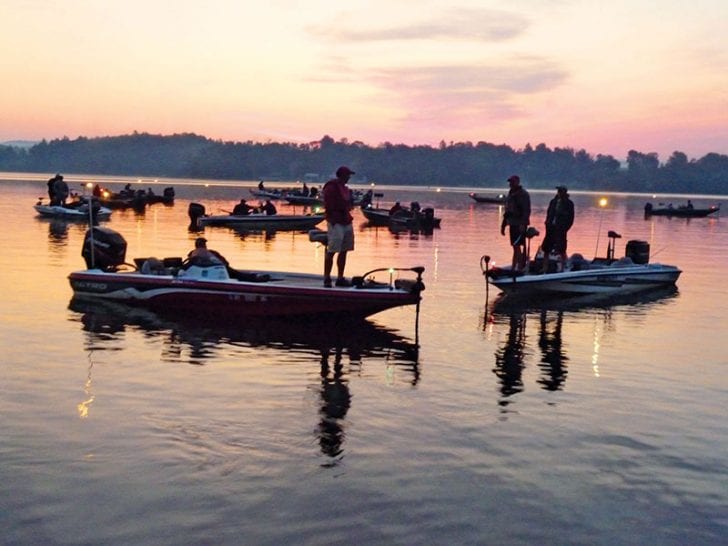 The FLW and B.A.S.S. rules that tell us that in pro tournaments the distance between anglers is 150 feet between boats, but only with the trolling motor up and out of the water with the boat anchored or power-poled down does this rule apply. So when you're bass fishing for fun or in a tournament, how close is too close to one another while fishing? A lot of times it's left to the discretion of the angler. However, both parties don't always seem to agree on what's right.
How these situations are handled is important. If words are exchanged, the tone of your voice is everything. Remember, patience is huge in fishing and sometimes in resolving uncomfortable situations. While fishing, we should all be considerate of one another. After all, some of us put a lot of our time and resources into this sport and finding these spots. Always come off plane when approaching another angler. Come up quietly. Don't come in hot on them disturbing water and fish! Be polite, especially knowing he was there first. Try and both fish it. If the other guy is complaining, move away from him. After all, there is potential to catch fish around them. Remember, sportsmanship and manners matter. There's an easy rule to all of it. Treat them how you would want them to treat you in the same situation. Lead by example.
On to the fishing report. Fishing is really going off right now. It's on fire! The big girls have moved up ready for the spawn. This is the time of year to catch a bass of a lifetime. The best way to fish to find these giant bass is to scan the shallow waters with good bottom. Being stealthy is always very important. I like wear clothing with natural colors that match my surrounding environment, such as green, black and brown for freshwater. Fish can see the bright colors of your clothing, so go with more earthtones.
This best baits for this time of year are baits that can be dragged along the bottom. Carolina rigged worms, texas rigged worms, flukes or even a horny toad. Other great search baits are swimbaits, swim jigs, crankbaits, jerk baits and spinnerbaits.
This month's best places to target big bass are:
#1 Everglades Holiday Park
#2 Sawgrass Recreational Park
#3 Lake Okeechobee
#4 Mile Marker 35
#5 Holey Land
Good luck till next time. Tight lines and bent rods,
Capt. Neal Stark
(954) 822-1481
Fishing with America's Finest, Inc.
"Changing Lives One Cast at a Time."
501(C)(3) Non-Profit Organization, FEIN #45-5494005
www.FishingwithAmericasFinest.org
fwaforg@gmail.com
American Everglades Guide, Inc.
www.AmericanEvergladesGuide.com
aeguideinc@gmail.com