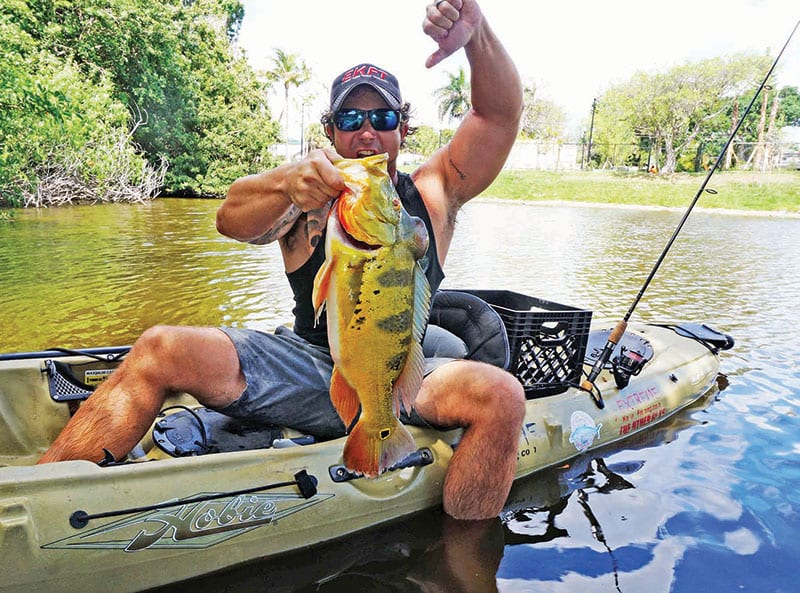 Winter is in full swing now. For kayak anglers fishing offshore, March is one of the slowest months and hardest to get out weather wise. For the anglers that can get out on a nice day, they might be rewarded with some quality fish.
I have caught some solid mahi mahi in the month of March. Typically, the strong east winds will blow in some nice 10 to 20 pounders in to the range of kayak anglers. Try fishing around the color change and look for some nice weed lines. Go offshore after a few days of some strong east winds and you will have a good shot of catching a nice mahi mahi in 180 to 250 feet of water. They might even be in shallower water as I have landed some 10 to 15 pounders in 80 to 120 feet this time of the year.
With the moon and a decent bonito run happening, it could be worth going after some big wahoo. Although scattered, there have been some big boys caught in the month of March. Try fishing on an outgoing tide at the mouth of the inlets, slow trolling a live gog on a downrigger. If you do not have a downrigger try using a 4 to 8 ounce egg sinker to get your bait deeper in the water column. You can also catch some bigger kingfish with the same tactic.
The sailfish bite is still going strong with awesome bites after cold fronts. For targeting sailfish, try zig zagging in depths from 80 to 180 feet of water, slow trolling your baits. Once you hook up on a sailfish, stay at that depth and you most likely will have a shot at another one.
For days that are too windy to get offshore, kayak anglers can try their luck at some beautiful peacock bass. For me personally, live shiners have always been the go to bait for catching a solid 4 to 5 pound peacock. The bite will be slow given that we are not in the summer months yet, but with the aggressive nature of these fish you're still sure to get a few bites.
Anglers can now register for the Extreme Kayak Fishing Summer Slam taking place June 22nd and August 10th in Pompano Beach. For more information go to www.extremekayakfishing.com.
Joe Hector
954-895-4527
Extreme Kayak Fishing Inc.
www.extremekayakfishing.com
joe@extremekayakfishing.com