Passion! It's a word that can bring to mind many things. February is the month of hearts, flowers and chocolate as we remember those most important to us during Valentine's Day. Sure, it's just another greeting card holiday, but also a reminder of finding passion in our lives. What is your passion? For me it's time on the water. Lines out, tunes cranking, and spending time with family and friends enjoying the open seas. I never feel more connected to nature and my place on this planet then when I am offshore fishing.
Finding your passion isn't about a career or money. It's about finding your authentic self. The one you have buried beneath the needs of other people in your life. If you can't stop thinking about it then you shouldn't stop doing it. Be fearless as you are in pursuit of what sets a fire in your soul. No matter your passion, pursue it with all your heart.
February is a great month for fishing in South Florida. Sailfishing should be red hot all month long as cold fronts come through more regularly. The wahoo bite should still be solid around the new and full moons and bigger blackfin tunas should start to show up. Freshwater fishing will also be heating up this month. As water levels and temperatures drop, the bigger female bass will be feeding aggressively as they get ready to spawn. Get out there and bend a rod!
Keep reelin,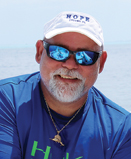 GENE DYER
Editor & Publisher
Coastal Angler Miami
miami@coastalanglermagazine.com
(954) 680-3900