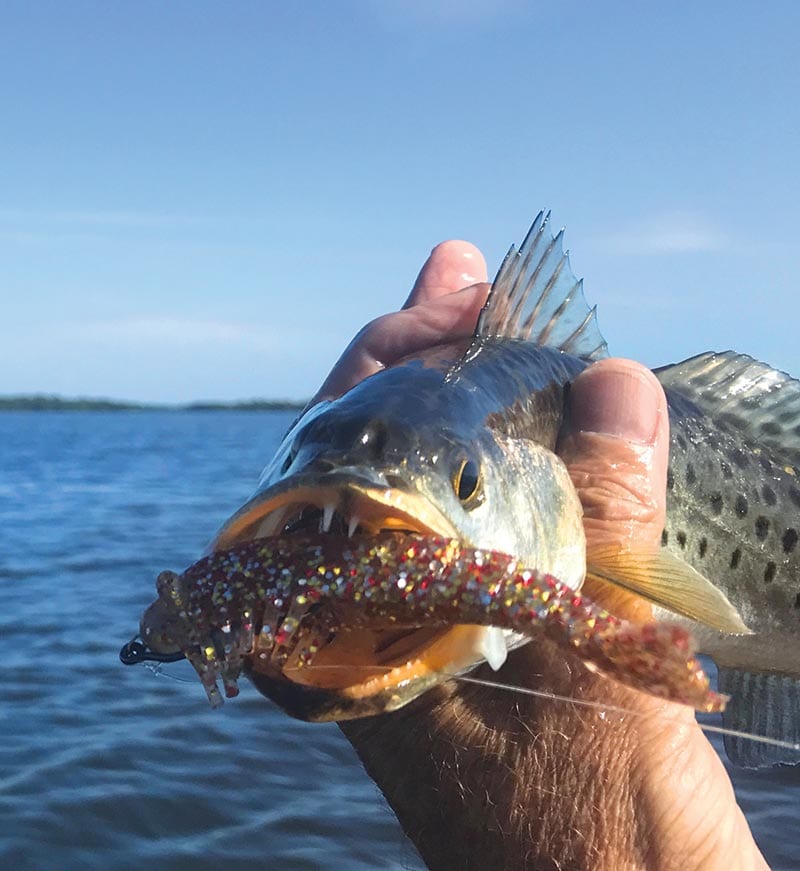 by Dan Carns
Many of you have heard the name Mister Twister, long-time player in the freshwater fishing world and inventor of the curly tail grub, but did you know they offer an exciting saltwater line as well. The new Exude line of saltwater plastics offers an exciting choice of plastics for those of us that love artificial lures. This bait is scented with fish food and releases a scent trail when it hits the water and also has a very slippery surface, so that it feels like food when a fish picks it up. We've all had those days when fish short strike a lure or pick up and drop a lure immediately and the built-in flavor and feel change all that.
Here in SW Florida we have three main species that everyone is chasing, snook spotted sea trout, and redfish and they all eat shrimp.
I present the Exude artificial shrimp two ways; rigged on an 1/8 oz. jig head or a weighted twistlock hook. I love one feature about this shrimp, it stands on its head when dropped to the bottom so that the tail is up and keeps the hook out of the grass. Slow twitch and reel seems to elicit the most strikes from redfish, a steady retrieve just above the turtle grass triggers a trout bite, and while presented under a dock this bait elicits that explosive snook hit. My go-to colors for this 3 1/2" shrimp are Natural and Golden Bream, both have a ton of reflective sparkle and really show up under dark water conditions or night time fishing.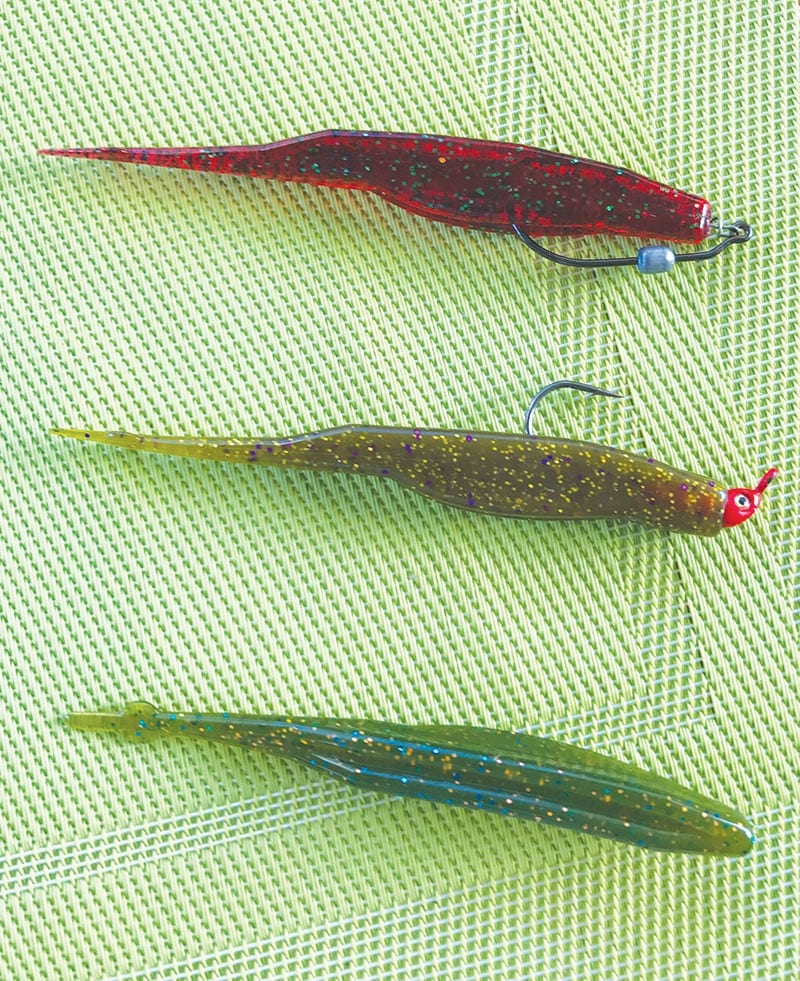 My next favorite soft plastic is the Exude 5" RT Slug. You can cast this thing a country mile or sling it directly under the mangrove edge, rigged weedless on a twist lock hook, and simply drag it slowly through the roots where the redfish and snook are hanging and out into open water. Slowly twitched and reeled this thing loops and darts like a wounded bait fish and really triggers a strike. I love to chase redfish in really shallow water, rigged weedless, simply drag it slowly though the grass and watch them turn in pursuit. Just a reminder that these are big predators and won't expect this bait fish to slow down so keep up the speed and even increase just a little as though its escaping. Due to our tannin stained water I've found that Chicken on a Chain gets the most action followed by New Penny and Baby Bass.
I have a lot of other plastic baits in my arsenal but have found Mister Twister to be the most consistent and reliable soft plastic bait!
It's a wild world-get out there! Fishman Dan, Gulf Coast Kayak, 4120 Pine Island Rd NW, Matlacha, FL 33993, (239) 283-1125