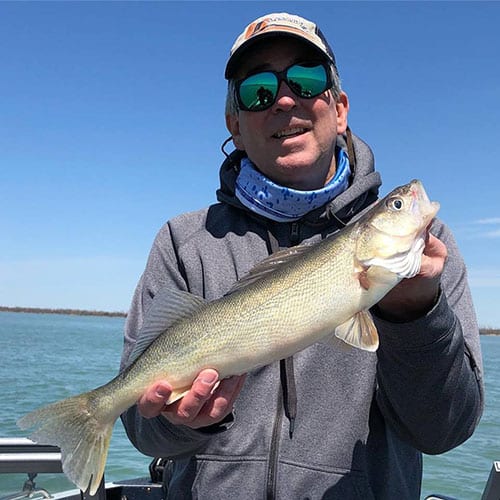 By: Capt. Ben Wolfe
The 2018 open water season is in full swing here in Northern Michigan, June has pleasantly surprised us with sunshine and warmer temperatures. Anglers can finally get out on our are inland lakes and Lake Michigan shoreline without having to dress in ice fishing attire!
Our areas smallmouth bass fishery in the month of June is something that all bass anglers should experience. The Traverse City Area provides ample inland lake opportunities as well as Lake Michigan fishing options in Grand Traverse Bay. Depending on inland lake water temperatures, it is common to see pre-spawn, spawn and even post spawn smallmouth scenarios in the month of June. If you are looking for pre-spawn jerk bait action, drop shot fishing to big spawners, or just simply casting swim baits to isolated dark spots and drop offs, this is the time to get out.
It is no secret that Grand Traverse Bays are offering some exceptional perch fishing in multiple locations, anglers have had a more than productive fall, winter and spring fishery. June is a great time to find the larger schools of post spawn perch feeding in 50-70ft flats mainly comprised of rock and weed coverage, or even in this same depth zone just adjacent to a steep drop off or isolated hump. Perch spreaders tipped with minnows and even soft plastics have been working well for all anglers.
Grand Traverse Bay's June fishery for cisco, lake trout, and whitefish is a great option for anglers looking to troll, cast and even vertical jig. Most of these fish can be found in the same depth zone depending on water temperature and food supply. The warmest water is typically the best when targeting these species as they are most commonly found in 30-80 ft of water with a surface temperature ranging from 46-55 degrees. Anglers looking to troll will have great success with shorter lead cores, slide divers and down riggers with long leads and smaller spoon presentations. Jigging spoons and blade baits are great options for anglers looking to capture these fish in a casting or vertical jigging scenario.
We wish every angler a safe and successful June, we hope to see you on the water!
Capt. Ben Wolfe
Sport Fish Michigan
(877) 442-4294
www.sportfishmichigan.com