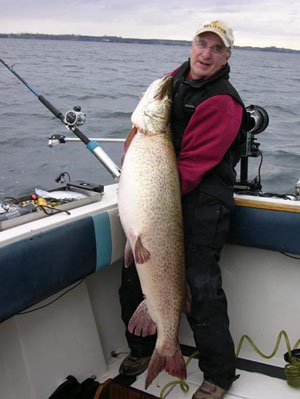 Angler Magazine of Upstate NY predicts BIG things for this coming Muskie Season, especially on the St. Lawrence. Many believe a world record or contenders are possible in coming seasons on our majestic river. Here are 5 Angler Magazine options to help make your Muskie dreams come true.
1000 Island Bait Store – Truly the Mecca of Upstate NY and St. Lawrence Muskie shops. The Berger Rig was developed at the store, which is what many charter captains use who troll the river from depth of 25-100 feet of water. The rig consists of a Believer 10-inch plug, a 36-52-inch leader tied in back with a large Williams spoon. Many captains custom tape the spoon, and both baits take strikes. Todd and his staff will show you the rig and/or sell you it tied up. Trolled with downriggers down 20-25 feet, planer boards, wire-line and flat lined should put you in range. 1000 Island Bait has charts, maps and most importantly guide lists and schedules for 24 River Guides. They highly recommend that a trip with a guide here to provide the gear and or teach you the nuances of the diverse fishery, considered WORLD FAMOUS in our region! They often refer and share technique inquiries with Bob Walters of Water Wolf Charters. 1000 Island bait also has a massive and varied collection of local and national Muskie gear.
Water Wolf Charters – Capt. Bob Walters fishing out of the Village of Clayton has 3 trips open till Dec. 15 (closing day). Bob is truly an innovator, traditionalist, teacher and lover of St. Lawrence Muskies. He has developed a downrigger/camera system that you watch on 2 state of the art screens while fishing inside his heated enclosed 31 foot Muskie craft. His boat is a floating devotion to Muskie knowledge and gear. His 59 lb. specimen he landed in a past recent season is on display at the 1000 Island Museum, home of The Muskie Hall of Fame. Bob anticipates water temperature drops that trigger big fish migrations from Lake Ontario and Water Wolf has the experience and "state of the art" equipment to find them. Bob claims that later in the season, bigger and more fish appear on his electronics. Nice walleyes and Northerns are often dividends of his efforts.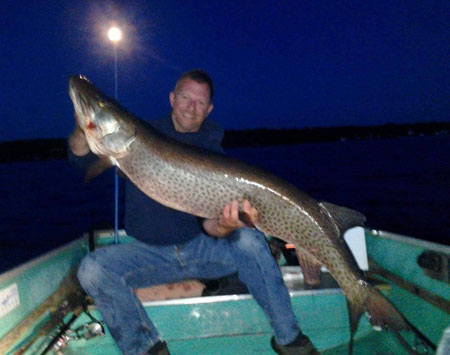 Water Wolf Charters Instruction/Clayton 1000 Island Museum Tour – Bob, the gentleman fisherman that he is, volunteered to The Angler readers his free advice and technique knowledge via his phone call, website or simple boat visits in the town of Clayton. You see, Bob is a teacher at heart. He loves to talk Muskies and sincerely wants to help other get in on the excitement. The Water Wolf is docked feet from the 1000 Island Museum, and other guides are regulars at the museum during the season. Jeff Garnsey is on the board of the museum and one of the 24 listed 1000 Island Bait Store guides. Bob, Jeff and other Muskie guides often gather at the Koffee Kove in Clayton, once again a close walk from Bob's boat. Together they are willing to get you on the right track, whether you plan a charter or fish from your own boat. The museum couples as the Muskie Hall of Fame.
Field Expert Jim Sorrento trolls his small fishing boat in the areas of Chippewa Point and Morristown, and has been increasingly learning to hook Muskie's. He trolls and casts the areas for walleyes, northerns and bass. When he started hooking and attracting Muskie, it motivated him to increase his efforts to concentrate on these monsters in the last several years. Jim lives in Buffalo and weekends at The River to compete in the UFL (Underground Fishing League). This league is directed by Jim's brother Michael Sorrento (Angler Mag field expert) who commutes from Indianapolis to participate and choreograph their events. Jim has hooked 5 Muskies and has now landed 3. (38,47, and 50 inch). He flat line trolls plugs with 15 lb. braid and a 5-6 in steel leader and trolls in 30 to 100 ft. mostly with reef runners. He likes the clear mirror pink, salamander and fire tiger.
St. Lawrence County Fishing Guide is loaded with tons of River and area fishing information and guidance. Refer to the guide for the many other MUSKIE waters in St. Lawrence County. This county boasts the most diverse Muskie population in the state with its large and medium sized rivers or small streams, many that are populated with Muskies. Request a copy at 877-228-7810 or visit FISHCAP.Net. The St.Lawrence County Chamber of Commerce boasts a sizeable library of fishing and outdoor literature and you are welcome to visit them at 101 Main Street Canton,NY.
Anyone Muskie fishing PLEASE call and text me at 518-898-6484 or email me at frankie@theanglermagazine.com. We plan a follow-up story for December and will be following Water Wolf Charters Novembers results along with all of 1000 Island Bait Store guides. I am planning a November 8th trip which will be documented also. Please share your information.