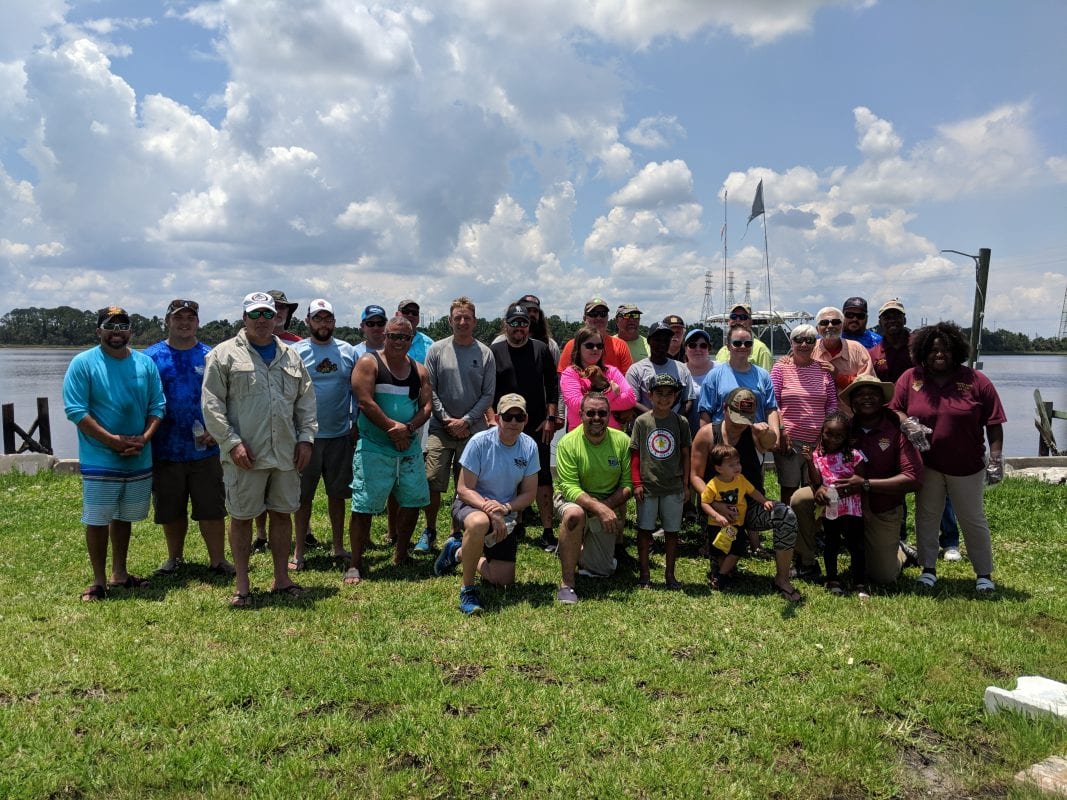 Only Getting Hotter
By Tim Stouder & Katie Blunk
June 10th we landed back at our home spot of Browns Creek Fish Camp. The weather all week was as nasty as it could be; however, on our day, the clouds parted and the heat turned up. They always say it feels good to go home when you have been away for a while and it sure was awesome being back at Browns.
We put close to 40 kayaks on the water this past Sunday. We saw many new folks which is always good to get new butts in seats. We have fostered a new relationship with Wounded Warrior Project and have had at least 6 from their group to the last two events. We also have seen a few new folks that found out about us from the HOW National site. As you read this, if you know of any veterans or first responders who you think would benefit from a day on the water, have them contact us. We would love to send them out for some aqua therapy.
Fishing was fishing and par for course. A few decent reds were caught. Many rat reds and puppy drum made their way into kayaks throughout the day.  One group, on the day, had a challenge they couldn't overcome and wound up returning to the ramp with a reel with no line. As guide, Donnie Leeper stated, "It hit like a freight train and I just couldn't stop it." Sometime we win and sometimes the fish wins.
The VFW stepped up big time with another awesome lunch for all of our participants. We feasted on hamburgers, hotdogs, chips, beans, coleslaw and of course our homemade cookies from our Veteran Marlene Guy. They were delicious as usual. If you or someone you know would be interested in donating lunch for one of our events, we are always in need.  We also are in need of land volunteers for every event and we welcome all.
As many of you know, the docks and ramp at Browns took a beating from Hurricane Irma last fall.  This is our first return to the fish camp since that storm.  As Brown's is one of our biggest supporters, we can only stress if you are in the area to stop in and shop at Browns for your fishing needs, as they are in the process of rebuilding all the docks.
July's event will see us go a little south to Faver Dykes for our next event.  August will see us take a long dip in some chilly water as we transcend on the Itchnatucky to cool off.  It is starting to heat up out there, so make sure you stay hydrated.
About Heroes on the Water
Heroes on The Water is a non-profit organization that helps injured service members with their physical and mental recovery using the therapeutic qualities of fishing from kayaks. Every HOW event across the country brings together wounded military personnel for guided kayak fishing excursions. Founded in 2007, HOW has served more than 35,000 Veterans. The service is provided to the Veterans for free. HOW is a non-profit organization under IRS Code Chapter 501(c)(3). Donations are tax-deductible to the extent allowed by law. Visit www.HeroesOnTheWater.org
The next Heroes on the Water outing is scheduled for July 15th @ Faver Dykes State Park. If you are a Veteran, know of one that would like to participate, or if you are interested in volunteering or any other questions please contact Coordinator Tim Stouder at NortheastFlorida@HeroesOnTheWater.org .
If you would like to follow us on Facebook or make a donation to Heroes on the Water, you can do so at https://www.facebook.com/HeroesOnTheWaterNortheastFloridaChapter