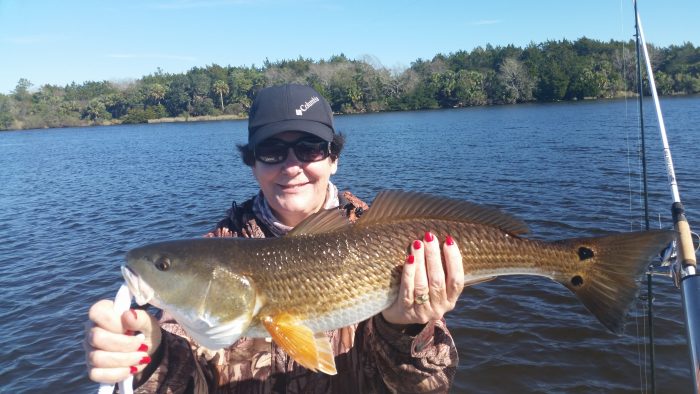 Winter in North Florida is inconsistent to say the least. In the matter of a couple days you could be dealing with 29 degree or 75 degree temperatures. This has an extreme effect on fish feeding patterns. Whenever the bay waters drop below about 57 degrees or so the fish look for dark hard bottom because that will hold heat. If it continues to drop they head for spring fed rivers and creeks so they can get into that 72 degree ground water pushing toward to the bay. Fish slowly for trout or reds with suspending type lures like a softdine in gold side/ green back with short twitches and slow movements.  Most times you will feel the bite when it is sinking. Use a chartreuse 1/4 ounce jig head with a live shrimp in the deeper areas and let them locate their dinner by smell. You may even pick up a nice sheepshead or flounder.
Look for redfish to hold shallow around Piney Island on warm days.  If the temperatures drop, look for fish in the channel heading into Panacea.  There are a few holes inside the channel that will hold fish.  Plan B, could be Spring Creek.  It is a great place to hide from a north wind.  On calm days Ochlocknee Bay is another great place to start.
Reports of large Black Sea Bass eating Stretch 25's in the bright colors or jigging a gulp or DOA near structure south of Marker 24 will continue to allow dinner to be brought home. The winter so far is very mild and quite fishable so plan some time on the water but take a jacket just in case. Enjoy the outdoors and be safe!
Forecast by:  Captain Steve Hobbs
SkeeterBite Fishing Charters
Call or Text 850 363-0527
Check us out on Facebook