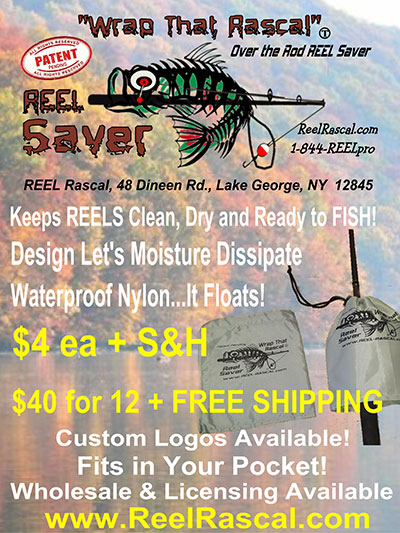 When it comes to fishing reel covers, every good fisherman understands the concept. You want to protect those expensive reels and keep the line from becoming brittle as it sits on the boat baking in the sun. Great idea, but the options were limited and many times too bulky or cumbersome to deal with, so you would buy them and they just ended up in a drawer in your garage.
The guys at Reel Rascal had the same problems. They wanted to use a reel saver, but just couldn't find one that was light weight nylon, could fit in your pocket when off the reel, creates a water protective enclosure to keep the reel dry, dirt, bug and pollen free and also making it easy to slide on the reel from the top or the bottom of the pole AND was inexpensive!
They bought just about every saver on the market to see which had the best qualities and an affordable price, and surprisingly they couldn't find any they thought were both functional and inexpensive.
So, the research and testing began. They came up with many different designs that still left them with a few concerns until they finally hit on the REEL Rascal "Wrap That Rascal" over the rod reel saver (Patent Pending)
This waterproof nylon bag with a draw string top, hit all their criteria. Strong nylon waterproof material, that can be custom logoed, open end bottom that allows water to dissipate and not get trapped causing humidity. The Reel Rascal is washable, easy to put on and quick to take off and you can stuff up to 5 bags into a single pocket of your fishing shorts. When shown to competitive professional angler, he said, "What I really lie about it is I can rig up my gear with the baits I want to use and the Rascal hides the lure, so my competition can't see what I plan to throw"
Rob Slack, the inventor of the REEL Rascal states "I can't tell you how much I spent on reels over the years. Seemed like every year I had 4-5 reels that the gears had just become too corroded or rusty to try and save, so off to the tackle store to run up another few hundred bucks on the Visa card. The real problem was me! I was too lazy to take the time to take the reels off, bag them up and store them away. I would just snap them in the rack and get back to my day"
He ran the concept and idea past a few guys he was partners in a Thoroughbred racing stable "Don't Tell My Wife Stable's" and they wanted in! Colonel Craig Flowers (RET) of Austin TX, Kirk Godby, Ft Worth TX and Tom Smith of Lake George NY joined Rob in forming the Reel Rascal Fishing Company. http://REELRascal.com. Now their great product is available to you, to protect any type of fishing reel in an easy to use manner. A small investment to protect your valuable reels!
Angler Frankie testimonial – When I first saw The Reel Rascals, it seemed like such a simple product, and very affordable. It solved a problem for me instantly. Many followers know I like to hit the water all rigged. I like having everything tied up and ready to go. Putting the Reel Rascals on took seconds, and all my lures and knots are protected and concealed. I can see how this will also help during steelhead season when I may need to walk in deep snow to get to my favorite run. My reel will remain dry and removing it only takes seconds, and stuffing it in my pocket is easy and hassle-free. They are easy to use and simple. I love 'em!