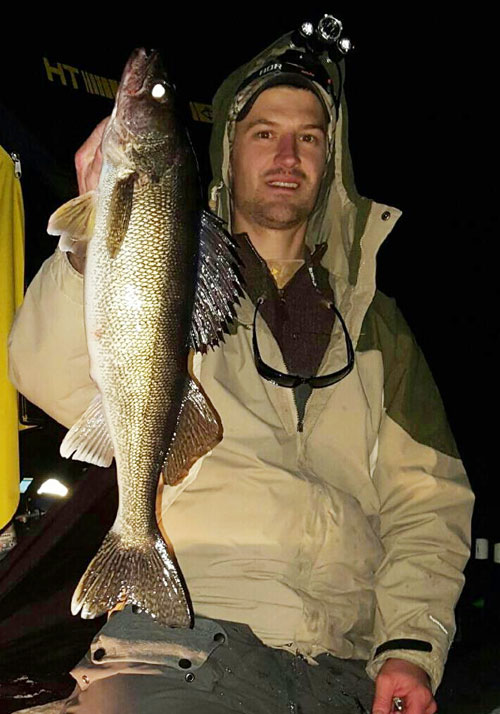 by Joe Greco of Justy-Joe Charters, newyorkfishing.com
Saratoga Lake – Warm spells and rain have opened shorelines in many areas and open water has taken over Fish Creek and much of the Norther portion of the lake. There has been reports of around six inches of good ice remaining off Brown's beach and Fitch Road access points. The fish have still been cooperating however, and eager anglers have still been reporting steady numbers of pan fish. The walleye bite has remained consistent as well and with the ice production at a standstill there seems to be no sign of things slowing down. How long this will last remain to be seen. Perch are being caught in 10-20 feet of water on tip-ups with cup bait or fathead minnows. Small jigs tipped with spikes, small spoons and jigging Rapalas have all been producing fish in a variety of colors. Try gold, perch, clown and glow patterns under the cover of darkness. This time of year, if fish get fussy, try downsizing to smaller presentations. At times, there's nothing like a plain-old jig with a minnow and remember to add a small size 12 or 14 stinger hook to seal the deal. I like Northland Tackle's fireball jigs, as they have a secondary eyelet behind the jig head. You can easily attach a small stinger rig to this without having the extra line running to your main eyelet. Do not overwork your bait this time of year, it's amazing how sometimes just the absence of movement will trigger the strike. Blue gill and crappie fisherman will want to head to the skinny water and start thinking pre-spawn. Fish will move in during the evening and will be found in the six to ten foot of water range feeding to fatten up for the upcoming spawn. The bite is still hot on small jigs tipped with grubs or small finesse plastics. Key in on areas with standing vegetation adjacent to known spawning grounds. With the technology we now have available to us finding underwater structure is easier than ever before. Check out Humminbird's new Helix-ice line of sonar units designed specifically for the ice angler. These units are equipped with big screens, easy navigation and numerous screen color schemes. I love the graph style sonar, which we would typically use for open water fishing on our boats. What this does is give you a wicked depiction of underlying structure such as weed growth, rocks and sand which can be frustrating to see on many classic flasher style units. But if you prefer a flasher-style sonar screen, you have that option with this unit as well.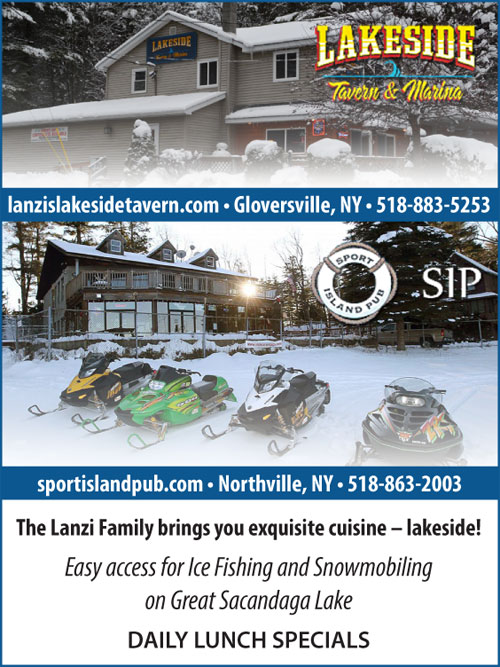 The Great Sacandaga – The "dead sea" as they call it is near and dear to my heart. Any avid angler who fishes the GSL will tell you it certainly is not the dead sea, but you will have to pay your dues when learning to fish this magnificent body of water. Walleye are the primary target species in the GSL which are quite bountiful and limits are not uncommon. A surprise "football" trout, occasional jumbo perch and the chance at a pike of a lifetime make this lake a great place to ice fish in my opinion. There isn't many guys begging to give information away and you're going to have to put the time in to consistently to put fish on the ice. The walleye ice bite is usually very early out there. When I fish the GSL I'm out early enough to be fully set up while still dark. Set tip-ups close to bottom using small shiners or hunt bait in the 15-20 feet of water range. Pay close attention to quick breaking contour lines and changes in bottom composition that can be found and recorded during open water season. Pink and white are really hot colors in here and small jigging Rapala-style baits are tough to beat. Many fish are also caught on my trusty dead stick rod which is equipped with a jig and minnow under a pre-set slip float that I place just up off the bottom. I think of this place as a walleye playground with countless sand to rock transitions, steep inside turns adjacent to big shallow flats and main lake rock piles just waiting to be fished. The giant nomadic Northern Pike are few and far between, yet every year numerous fish in the 20-plus pound range are caught. These pike are often much shallower and avid pike anglers will wait days and often weeks for that one flag that might yield the beast they have been after. Try big baits such as large shiners or suckers, and experiment with both live and dead presentations. Although I personally don't target pike in the GSL, the guys I know who are successful are usually in the 5 to 10 feet of water range. Again, there are spots that regularly produce these fish but you will have to put the time in to find them.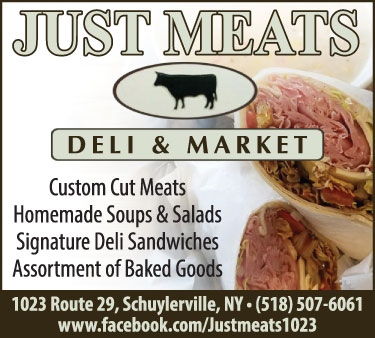 Other local hot spots – There is still plenty of ice on Brant lake, Cossayuna lake, Round lake, Ballston, Lake lonely and many other smaller lakes and ponds. The pike fishing on Lake lonely and Cossayuna can offer anglers with some consistent action at pike running thirty to thirty-eight inches. Try weedy drop-offs in the 5 to 10-foot range using large shiners and suckers. Key in on weedy flats and bays that have small feeder creeks running into them which will concentrate baitfish and oxygen. The pan fish bite can be excellent in both areas in the weedy bays using small plastics and teardrop jigs tipped with spikes in the 5 to 8-foot range. For young anglers the north end of Ballston lake is hard to beat. The small bluegills and perch are plentiful off the outlet road access point and can be found in 5 to 7 feet of water just about anywhere you drill holes.
It's not too late to hit the hard water. Although we have had a tough run, spring is not yet here and there being still many opportunities available to the savvy ice angler. Only fish areas where the ice thickness is consistent and there have been good reports from other anglers.  Use extreme caution guys and gals, no fish is worth taking your last swim. Don't go out alone and never without the appropriate safety gear. Thanks for reading and set those hooks!