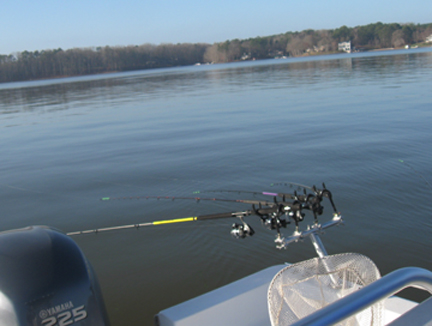 by Wayne Wooten
I had called my friend and Lake Oconee fishing guide Captain Mark Smith to check on his recovery from a recent surgery. Mark said he was doing well and should be able to get back on the water the next week. Mark also stated that he had upcoming trips booked and needed to find the fish after being off the water for a few weeks. Mark already knew that the striper and hybrid fishing was hot, so crappie would be our target. I told him I would love to go scouting with him, and we set up a trip for the following Thursday.
I met Mark at the ramp around 8 AM and dropped him and the boat in the water, and then it was giddy up time. The temperatures have been unseasonably warm this year. Normally in the high 50's and low 60's, it was going to be 70+ degrees today with a 5 mph wind and the water temp was around 58 degrees.
Mark had decided we would pull some double jigs around 1 mph figuring that the fish would be 10 to 12 feet deep. The first spot we went to had a wad of fish 15 to 20 feet deep in the mouth of the creek. Capt. Mark slowed down to .7 mph to allow the jigs to run deeper and sure enough we caught a couple of crappie. By the time we reached the back of the creek and trolled back to the mouth, the fish were gone!
We then headed to spot number two which was creek channel that was also 15-20 feet deep, and once again there was plenty of fish. We pulled through them slowly, picking up a few fish. Mark then decided to change to a heavier jig and slow down to .6 mph.to run deeper and slower.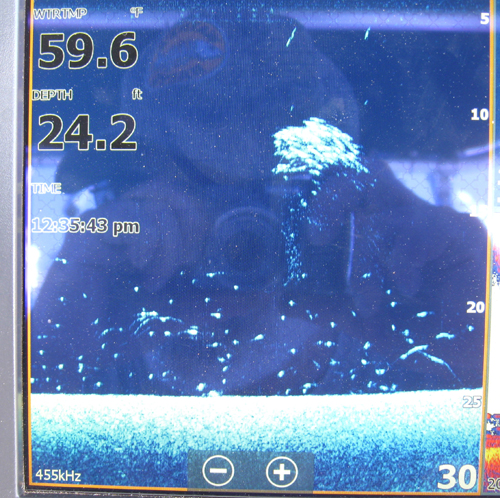 The problem is the bottom varies in depth from 15 to 20 feet, and the trick is not to run too slow because you will get snagged on the bottom. So Mark watches the Lowrance HDS12 on down scan and speeds up and slows down the Minn Kota with the remote control depending on the depth.
We did catch fish but realized that although it had warmed up earlier than usual the fish were still lethargic and we would have had more success pushing rather than pulling. When pushing you don't have as much line out and can run as slow as .3 mph without getting snagged.
The half a day scouting paid off! Mark had the info he needed to find fish, catch them and will be able to provide a quality experience for his clients.
I had a great time, learned something and can't wait to come back to Oconee and do it again. Now we are loading out headed for our usual post-fishing lunch!
If you want to go striper, hybrid or crappie fishing on Lake Oconee, contact Mark Smith or Reel Time Guide Service on Facebook, or call him at 404-803-0741. You will be glad you did
While we were out scouting, we checked out Young Harris Outdoor Marine's new dock system. It is really nice and nice people too! If you want to rent a boat, or jet ski, I recommend you check them out on Facebook for all their contact info.