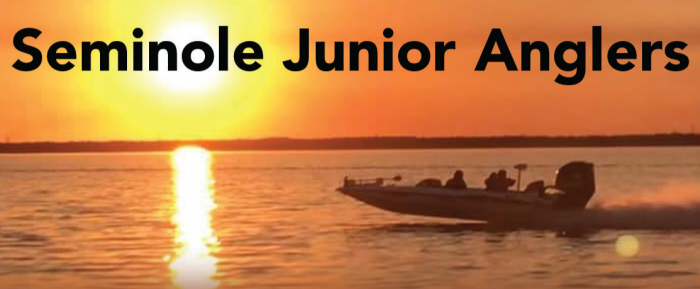 The Seminole Junior Anglers competed in a number of tournaments recently and have had a number of teams with top finishes. One of those tournaments was the FLW/TBF Florida High School State Tournament that was held out of Palatka on the St. Johns River. The team of Fisher Omans and Steven Steinard finished 5th out of 65 teams to earn a birth to the TBF National Tournament being held on Pickwick Lake in Florence, Alabama. Other top performing teams include Joey Bloom and Dylan Westhelle 8th Place, Logan Wright and Colin Blanton- 9th Place, A.J. Almedea and JJ Lehman- 10th Place, Connor Dimauro and Saxon Dearmin- 13th Place and Jake Terrell and JD Walker- 15th Place. The teams will next compete in the 2nd annual North vs. South Kissimmee Chain Tournament. The top 12 teams from the Seminole Junior Anglers and the Osceola Anglers will face off against the top 12 teams from the clubs of Bartow, Sebring, George Jenkins and Ft. Meade High Schools.
Newsworthy:
The teams also competed in a B.A.S.S. State Qualifying Tournament on the St. Johns River out of Palatka on March 12th. The team of Logan Wright and Fisher Omans brought home the win for the Seminole Junior Anglers with a limit of bass weighing 15.56 lbs. Logan and Fisher, along with the team of Joey Bloom and Colin Blanton are in the top 5 teams of the year in points and have an opportunity to win team of the year and qualify for the B.A.S.S. National Tournament that is held on Kentucky Lake.
We would like to thank all of our sponsors for supporting these young anglers, especially Instant Insurance of Sorrento for supporting our page in the Orlando Coastal Angler Magazine.