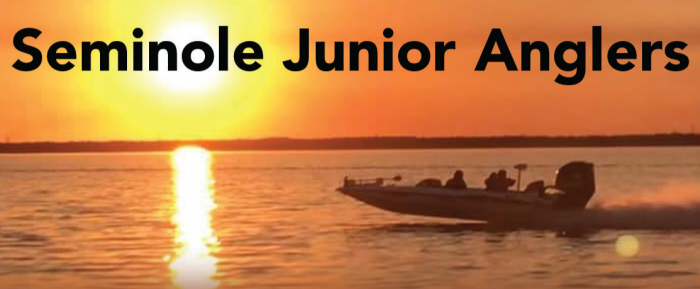 The Seminole Junior Anglers Tournament season is reaching the half way point, and the teams are looking to expand their successful season thus far. On January 15th, a number of the Seminole Junior Anglers competed against a 61 team field in a no-entry fee tournament hosted by The Bass Federation out of Roland and Mary Ann Martin's Marina and Resort in Clewiston, FL. The team of Colton Rands and Matt Suggs had a great performance, finishing 18th and weighing in 11 pounds 14 ounces. The team focused on throwing search baits in their quest to secure their solid finish.
A number of teams also competed in the new Central Florida High School B.A.S.S. Series event held on the Winter Haven Chain of Lakes. Out of the 40 teams entered, the team of Logan Wright and Fisher Omans had the SJA's best bag weighing in a limit of five bass that tipped the scales at 11 lbs. This solidified a 7th place finish for the team, and got them one step closer to make it to the B.A.S.S High School National Championship.
The following weeks brought several big events for the anglers. On February 19th, they compete in another Florida B.A.S.S. Nation Event being held on the Winter Haven Chain. The anglers are hoping to use some of the knowledge they gained in the Central Florida Series event to help in their success for this tournament. Next, they will switch gears and head to the St. Johns River in Palatka to compete in the FLW/TBF High School State Championship. This will be the first time fishing in this area of the St. Johns River for many of the anglers. They'll get another shot at it though two weeks later when they head back to Palatka to compete in final B.A.S.S. Nation State Qualifier. This will be the last opportunity for the anglers to earn a berth to the B.A.S.S. Nation State Championship begin held April 8-9th out of Venetian Gardens on the Harris Chain of Lakes.
We would like to take this opportunity to thank all of the volunteer captains that provide boats for the students. If you are interested in getting involved, contact seminolejunioranglers@gmail.com. We would also like to thank Instant Insurance in Sorrento for sponsoring our page in the Orlando edition of Coastal Angler Magazine.