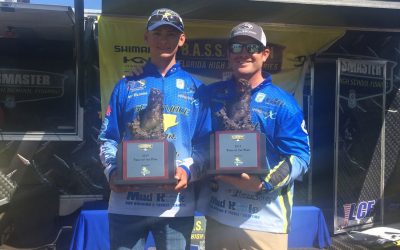 Since our last article, the Seminole Junior Anglers have had a busy and successful month! First, they competed in the 2nd Annual North vs South High School Tournament on the Kissimmee Chain of Lakes. Twelve teams from each the north and south sides of the Kissimmee Chain of Lakes made up the field.The Seminole Junior Anglers, representing the North, were led by a strong performance by Bobby Bakewell and Jake Hutcheson. They managed to weigh in a solid limit of fish at 18.15 pounds, and secured a 1st place overall finish. Other teams having strong showings were the teams of Joey Bloom and Dylan Westhelle, weighing in 15.85lbs, and Brandon Simmons and Logan Wright, weighing in 11.85 lbs. The South ended up defeating the North 127 lbs to 109 lbs.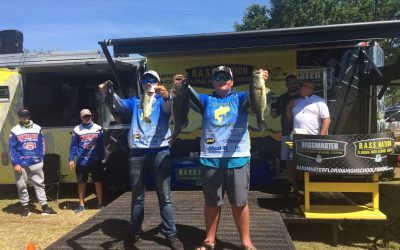 Next, a handful of Seminole Junior Angler teams compete in the B.A.S.S. Nation Florida High School State Championship held on the Harris Chain of Lakes. The two day tournament was the final tournament of the season for Florida B.A.S.S, and was the state qualifying tournament to advance to the national tournament. The organization had a strong showing from all of the teams who competed. The team of Ashton Schmitt and Zach Temperley had a outstanding tournament, finishing second place overall with a two day total of 30.66lbs which was enough to receive a bid to advance to the B.A.S.S. National Championship. But that is not the only team to qualify. The team of Joey Bloom and Colin Blanton captured huge honors and were named B.A.S.S. Florida High School Team of the Year, and will also be heading to the B.A.S.S Nation National Championship. The National Championship will be held on Kentucky Lake in June. This is the first time the organization has had teams earn a National Championship birth, and are very excited for these anglers to experience fishing at the next level.
We would like to thank all of the sponsors that have stood behind these young anglers all year, including Instant Insurance who has allowed us to share these young anglers accomplishments in this column.