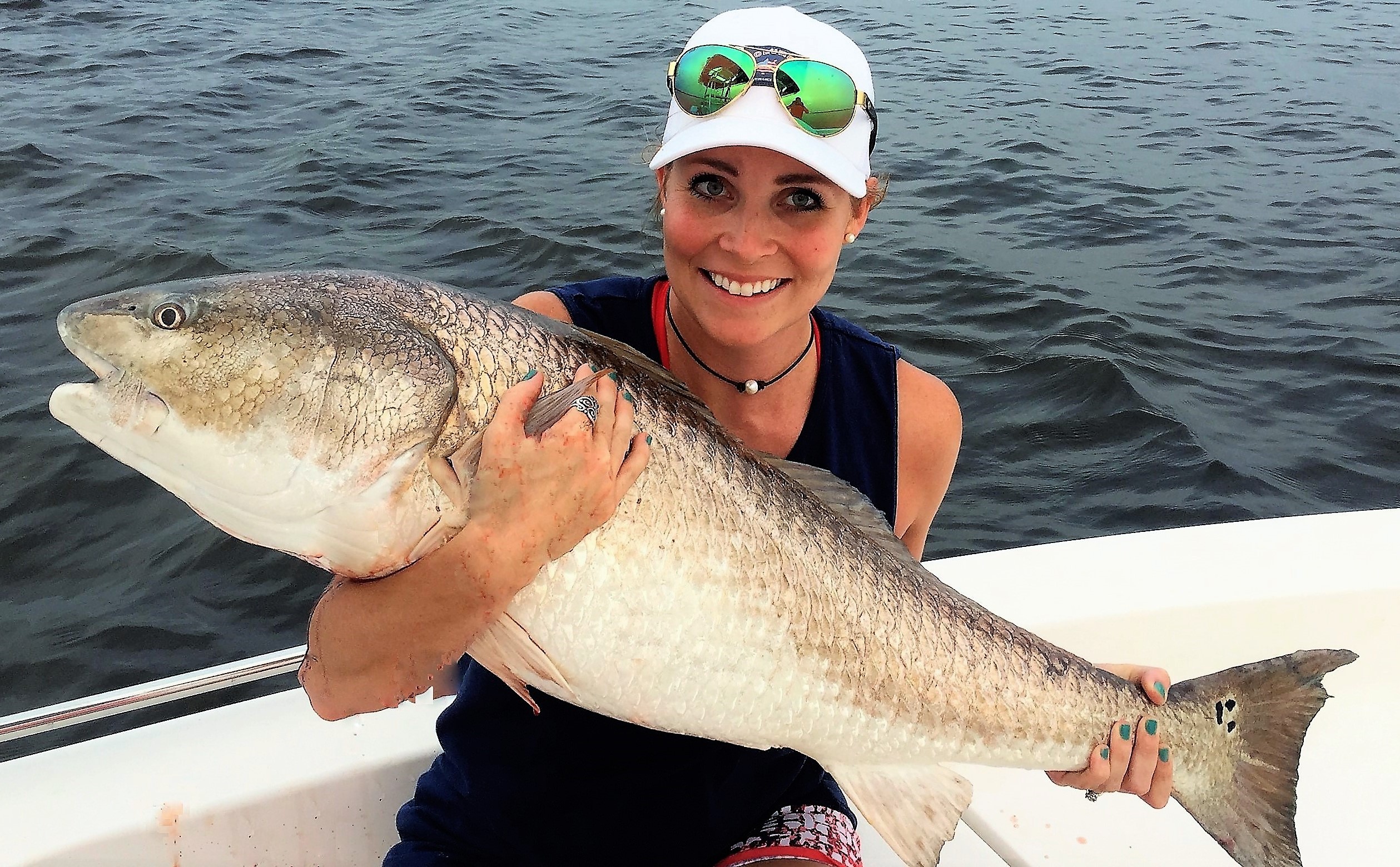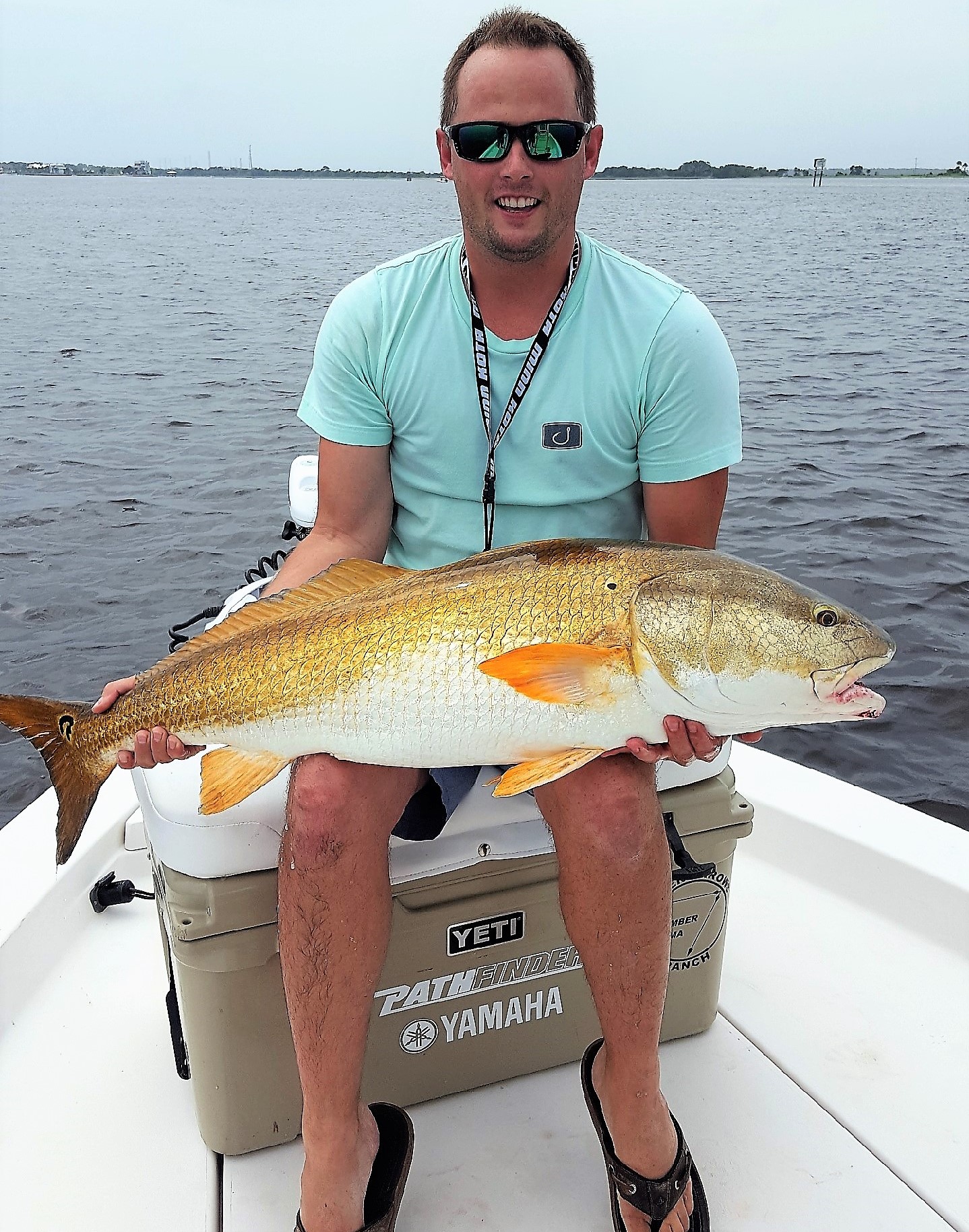 September's "Best Bet"
Flood Tides and the Annual "Mullet-Run" Trigger Huge Bull Redfish Bite!
By Terry Newsome
Just call it "the perfect storm!" It's that "perfect" time of the year when the flood tides of September trigger the annual shrimp migration and send massive pods of mullet racing towards the ocean inlets of Northeast Florida! The stage is set for the one of the most thrilling and challenging coastal angling encounters you will EVER experience! The "fall-run" is truly the best time of the entire year to catch your limit of tailing Redfish, "gator" speckled Trout and doormat-sized Flounder waiting to ambush their favorite migrating meal!  However, few fishing encounters can compare to the thrill of hooking-up with a 40-pound "Bull" Redfish in 40-feet of tide-ripping current! Your "best bet" for catching that trophy-class Bull Redfish you have always dreamed of is NOW!
Bull Redfish in Northeast Florida can reach up to 45 inches in length and live up to 40 years! (The Redfish state record is currently 52.5 pounds!) The conservation management of Redfish in Florida is a huge success story. Thanks to your efforts, the Redfish "stock" in Northeast Florida has rebounded extremely well. In fact, Northeast Florida is the ONLY zone that has a TWO Redfish limit per person, per day in the entire state of Florida! (All other zones have a ONE Redfish per person, per day limit.) The Redfish "slot" limit remains at "not less than 18 inches and no more than 27 inches in total length.
FISHING TIPS FROM PHILIP EDDY
When it comes to targeting and catching trophy-sized Bull Redfish in the 40-pound class, it requires a specialized set of skills; and that's why I called my good friend, Philip Eddy! I have known Philip for over a decade and he is one of the most well-respected and talented coastal anglers in the state of Florida; and for good reason! Over the years, Philip has sent me countless photos of massive Bull Redfish in the 40-Pound class.  In fact, several of his Redfish photos have been featured in Coastal Angler Magazine and I consider him to be the BEST Bull Redfish angler in Northeast Florida!  Recently, Philip sent me several photos of the biggest bulls I have ever seen (including a photo of his wife Heather with a 40-inch bull she caught just a few days earlier!)  I immediately called him and he graciously agreed to do the interview for this article.
"The month of September is absolutely the BEST time of the year to catch Bull Redfish up to 40-pounds" explains Philip, "…and during the full-moon phase this month, big bulls will be stacked-up 'thick as flies' in deep holes near the sharp turns and bends of the lower St. Johns River."  Philip catches Redfish throughout the day during the incoming and outgoing "rip-tide" phases.  "My favorite time to catch trophy-sized Redfish is in the late afternoon during the last two-hours daylight and prefer to fish incoming tide when the current starts to rip!  look for a water depth of 35 to 42 feet near the northern edges of the main shipping channel from Dames Point to the Mayport Jetties. With the ripping current, you will need plenty of anchor rope with at least 20-feet of anchor chain" says Philip, "and it is critical that your bait stays on the bottom.  That's why I use a 12 to 16-ounce egg sinker." Philip recommends using a heavy or extra heavy action (Ugly Stik Tiger Elite) spinning rod with a Penn Spinfisher V6500 or V7500 reel loaded with 60-pound (Power Pro) braided mainline with a fluorocarbon 80-pound leader.  He prefers using 7/0 (Gamakatsu or Mustad) Circle hooks to help ensure the Redfish is "lip-hooked." (This will help protect the Redfish during the catch and release process.)
Philip frequently catches trophy-class Redfish 38 to 42 inches in length weighing between 28 to 35 pounds with an occasional bull weighing 40 pounds! (Philip once caught 19 Bull Redfish in less than two hours!)  Philip is eager to give credit for his fishing success to local Dentist and Jacksonville native, Dr. Ronald T. Jackson. "My good friend and fishing mentor, Dr. Jackson, taught me exactly how and where to catch these powerful Bull Redfish" says Philip, "and one of the secrets to success is proper bait selection. I prefer using live blue crabs for bait but will occasionally use chunks of cut Ladyfish" explains Philip, "and I use two bait presentation strategies when fishing with blue crabs. First, I will remove the claws, legs and top-shell of the crab and then cut it in half.  If the small pinfish are eating the crab meat out of shell, I will switch to using a whole blue crab and remove the claws and legs.  I also like to 'cut-off' the pointed tips from each end of the top-shell making it easier for the bulls to grab the bait.  Using a whole crab will allow the crab to stay alive… plus the pinfish will not be able to get to the crab meat inside the shell."  Philip also says to be patient! "Be sure to give the bulls plenty time before setting the hook.  Once the bull takes the bait, strap yourself in and get ready for the ultimate fighting experience" says Philip, "and once you land the Redfish, it is extremely important that you use a saltwater gamefish ventilator tool (available at Strike Zone) to release air from the fish's inflated air bladder."  He was quick to point out that there are 33 feet in an "atmosphere" and when you are fishing in 40-feet of water, the air bladder will inflate as the fish it gets closer to the surface. Philip says that using a venting tool is simple but extremely important! "Gently lay the Redfish on its side and insert the venting needle at the base of the pectoral fin located just behind the fish's head.  You will hear air escaping from the inflated bladder and the Redfish can then be safely released to help ensure an abundant stock of Redfish for the future!"
ADVANCING AN IMPORTANT EDDY FAMILY LEGACY
Philip is extremely serious about the conservation of our natural resources and protecting the local fishery. "My wife Heather and I love to fish!" explains Philip, "and we want to help others experience the joy and excitement of fishing as well. We are devoted advocates for the environment, clean river water and the recreational fishing industry. We want to help sustain and protect the local fishery for our children and for future generations of anglers and seafood lovers to come."  Emerging from a well-respected family of locally and internationally prominent entrepreneurs (that have been successful in the seafood industry for over two decades,) Philip Eddy is carrying on an important family legacy as the Director of Domestic Purchasing for Beacon Fisheries, Inc. (and The Fisherman's Dock Seafood Markets.) This extremely talented and devoted coastal angler is making a real difference on behalf of everyone who loves the great outdoors! We wish Philip Eddy (and his family) continued success!
With over 25 years of corporate experience as a writer, director and producer, Terry Newsome has personally filmed and produced over 100 outdoor television shows and instructional fishing videos internationally.  He is an avid coastal angler and is a former co-owner of Pine Island Fish Camp on the Intracoastal Waterway just north of St. Augustine, Florida.