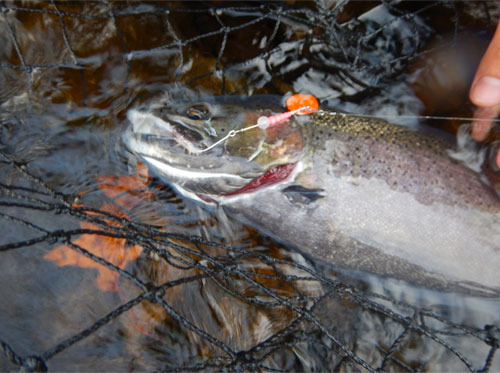 By Guide Wayne O,    www.wayneosguideservice.com
Have you wanted to try fishing for steelhead but not sure where to start?  A trip to a local tackle shop may have you thinking it's going to be complicated. Do you really need a centerpin?  How do you rig a shot line and a float? Why do you need a rod that is 13 feet long?  If you want to catch steelhead without breaking the bank or spending an entire season learning how to rig and fish a float rod you are in luck. There is a killer method that has been gaining great popularity the past few years. That method is throwing spinners for steelhead.
Steelhead fishing with spinners is by far the simplest and cheapest technique there is.  A spinner set up will cost you about $100 plus the cost of a few spinners and some snap swivels.  The best part is during the right times of year it can been extremely effective and the majority of fish hooked make it to the net.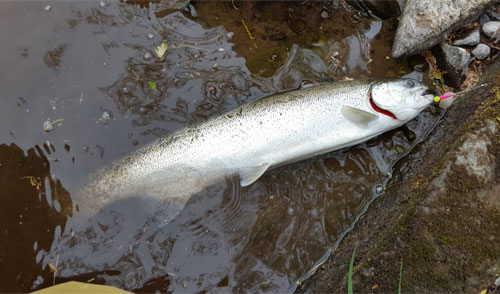 A good basic set up for fishing spinners is a 9-foot medium action Riversider rod which retails for about $50.  I would pair that up with an Okuma Avenger spinning reel for another $40.  Everyone has their preference when it comes to fishing line.  I have always been a big fan of Berkley Big Game line and that doesn't change for my spinner rods.  My choice is 10-pound Big Game.  You could drop down to 8 pound if wanted but I don't see the need and like knowing I have a little more strength between myself and the fish.  Next you will need a good quality snap swivel. This is one place you cannot skimp.  The $1.99 twenty pack of snap swivels just won't cut it.  You will have trip ending line twist in less than one day on the water.  Do yourself a big favor and spend a few dollars on some good swivels. Personally I like Spro products but any good quality swivel will work.  Even with a good swivel you will still get line twist after multiple days of throwing spinners. This is again one of the reasons I like Berkley Big Game line. It is very strong but also not very expensive. Whether you are spooling reels yourself or having it done at the tackle shop it will only be a few bucks each time.
Now when it comes to spinners there is a vast selection out there.  Everything from Mepps to custom made spinners are available.  Remember most Lake Ontario tributaries require you to use a single hook on sinking lures. Make it easy on yourself and buy spinners with single hooks already on them.  There are two brands of spinners I fish. The first is Finger Lakes Tackle spinners. They are available in many tackle shops and online from Great Lakes Steelhead Company at www.glsteelheadco.com.  The second are custom made spinners from Davy Jones Locker Custom Flies and Tackle which are also available in many tackle shops and online at www.djl-customs.com. Both offer a great product that catches fish. You are going to want to start off with at least 6 spinners in a few different colors. The normal colors of orange, blue, and pink are excellent on the Salmon River.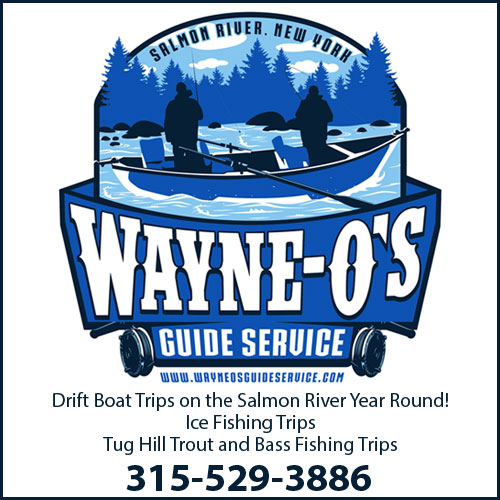 Fishing spinners is by far the easiest technique. Find a section of water that ranges from 2 to 5 feet deep with good flow and fish holding structure such as big rocks. The current speed can be faster than you would think.  The heads and tails of pools are great spinner water too. I generally skip over the belly of the pool as it is too deep and slow. Cast the spinner straight across or just slightly upstream if there is a little more depth in the section you are fishing.  Keeping the rod tip low let the spinner swing across the river until it is directly downstream of you. At that point the lure is out of the strike zone and can be quickly reeled back in.  Make sure you hang on the strikes are violent and will surprise you.  As you work an area vary the distance of your casts so you are coving different lines.  Make sure to work the area thoroughly especially if the water is on the cold side and the fish may not be willing to move far.  If you don't get hit take a few steps down stream and start over.
Once you are hooked up don't raise the rod tip up. Keep it somewhat low and out to the side. Remember you have ten-pound line directly to the swivel so there is no need to baby the fish.  This is why the majority of the fish hooked end up in the net.  You aren't worried about breaking off a four-pound leader.
The best times to fish spinners are from mid-October to mid-December and April through May.  Once the water temp drops and the fish move into the deeper holes the spinner bite slows way down or dies all together. The secret of the spinner is fishing it in faster water where the fish have to make a quick decision whether or not strike before it gets away. When you start fishing the deeper slower pools the fish have too long to study the bait. Now that doesn't mean you won't get one to hit during the cold months it just means there are better options at that time. That being said my boat rarely hits the water without a spinner rod even in the winter time, it is just not my go to rod first thing in the morning.
Spinner fishing truly simplifies something that has become very complicated and in many cases expensive over the past ten years.  The spinner allows you to be very mobile and cover a lot of water without spending a lot of money.  It is a simple technique that is easy for anyone to learn in just a few minutes and best of all it catches fish. Many days a lot of them.