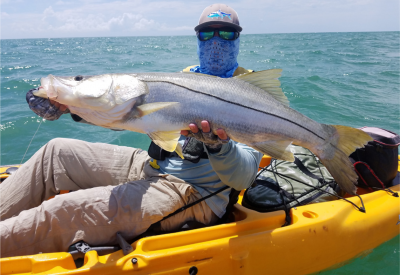 The summer slump can be a tough time in the kayaks for us anglers. Hot days and prolific thunderstorms will test your resolve to get out fishing. Just the simple act of getting loaded up and heading to your favorite hole will have sweat dripping from your brow. It could be easy to write this month off as a loss and pick up a hobby that involves air conditioning, but you would be selling yourself short of some amazing fishing potential. That doesn't mean that you can hop in the water at high noon under a blazing hot sun and expect to have an all-out catch fest on any given day. What it means is that you have great potential if you play the right cards at the right times.
Early mornings, afternoons, and even night fishing will not only give you a much more comfortable experience heat wise, but it will also be the cooler temperatures that the fish you are after will enjoy too. With outside temps in the mid 90's and water temps that reach close to the same as the sun climbs high the word lethargic becomes a part of fish and our vocabulary. In those mid-day times, a meal isn't always first on the mind. Shift your trips to include the wee hours or the late-night run. You will find all predators will look to take advantage of these cooler times and feeding activity will be at its maximum.
With many of my lagoon charters this month we will look to start in the pre-dawn hours and be off the water by the 11 o'clock timeframe. Likewise, the hours after a good rain and before sunset can be spectacular on the shallow flats that go devoid of life in the mid-day. For those on the adventurous side this is a great month to give some night fishing a try. Of course, your traditional areas that offer some overhead lights creating shadow lines around structure like docks can be packed with hungry fish, but don't overlook the open flats under a starlit night. The shallows become an outstanding display of outright savagery when those fish snap out of their lethargic shell and get to chewing. Redfish, seatrout, snook, and tarpon are all well adapted to low light feeding and even revel in the advantages it gives them over their prey. Remember that two of our favorite species to target (redfish/snook) will both be looking to start their annual spawn so handle them with extreme care. Even at night the super-heated water and a prolonged fight can be enough to give them revival issues, so keep that in mind while you hunt for the perfect picture.