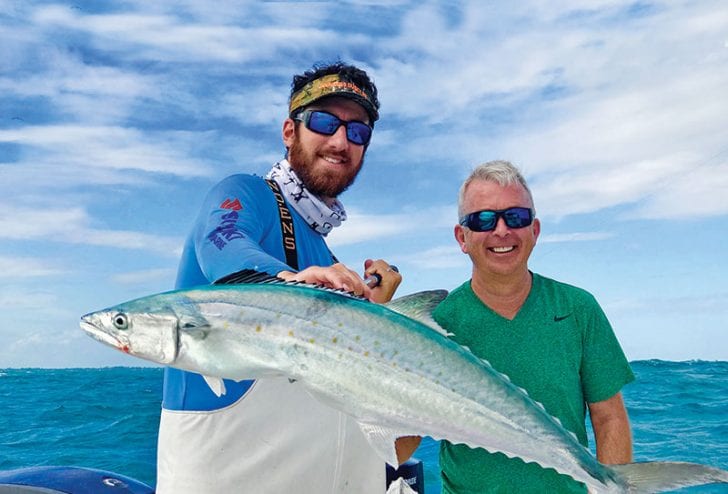 Load your boat or pier cart with 6 to 12 pound tackle, some number 2 stainless wire leader, a coil of 30 pound fluorocarbon, some lures and hooks. Now you can look forward to some fun action this month.
Early in October you may need to travel up the coast a little, but by November Spanish mackerel should be found all around South Florida. These speedsters range from inlets and bays out to as deep as 120 feet of water.
Small flashy plugs, flies, jigs and spoons all draw good action when you find a good school of these aggressive fish.
When the Spanish mackerel are being selective you will have to go with small live pilchards, herring or sardines. That or go with live shrimp. These baits work best with 30 pound fluorocarbon tied to a 2/0 long shank hook in black or brown.
Find your school of mackerel by trolling small spoons, plugs or strip baits around 4 or 5 mph. Work tide lines, around diving birds or depth breaks, such as reef and channel edges.
When you find a good school, anchoring and chumming with ground chum and glass minnows should keep the fish around. Spicing the chum line up with a few small live baits once in a while can really help.
Slightly rougher days and the cloudy water of an outgoing tide can help a lot with getting your Spanish mackerel carefree and ravenous.
Don't get bit, have fun and at the end of the day fire up the smoker.
CAPT. BOUNCER SMITH
Bouncer's Dusky 33
(305) 439-2475
www.CaptBouncer.com