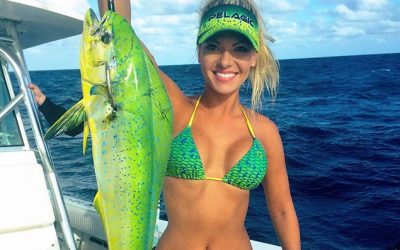 I'm Declaring Spring
What's biting? Mahi, Black fins, Wahoo. That sounds like a report from April or May but that was in March. So I'm declaring spring! Even the weather's cooperating with temperatures in the mid to hi 70's.  I expect the Mahi bite to be wide open!
 I never met a fish I didn't want to catch but the three mentioned above are on my short list. The early run of Mahis tends to be smaller than the later fish, so scaling down your rig is the way to go. The good news is the same size rigs that are effective on Mahi work for the Tuna as well. Elephants eat peanuts so it's not like the larger fish won't eat you spread. Small to medium ballyhoo rigged on 100 # monofilament behind a 1/8 ounce sea witch is perfect. Cedar plugs work great for Tunas but so do the ballyhoo rigs.
I still pull a heavier bait down deep on wire for Wahoo and depending on the amount of bite offs , will stagger some other wire rigs in my spread. As far as hook ups go monofilament is king. Conditions to look for are water temps above 73 degrees and current. The perfect situation is a current edge on top of the shelf or just inshore. Teasers will help your odds as well and the standard squid daisy chain works great.
On the bottom Amberjack, Vermillion, Sea Bass, Trigger fish, Cobia, and Red Porgy are open. The Trigger fish and porgy are plentiful on the shelf edge and a couple of drifts using double hook rigs baited with squid will do the trick. If you are looking for a fight with a reef donkey an 8 ounce jig worked vertically over one of the larger marks on the shelf will fulfill your wish.
On a positive note, NOAA scientist have retracted their statement saying Red Snapper are undergoing overfishing, changes ARE positive! It's too early to know if there will be a 2017 season, but there's no need for any additional restrictions or area closures. Vey good news indeed.
Tight Lines
Captain Robert Johnson