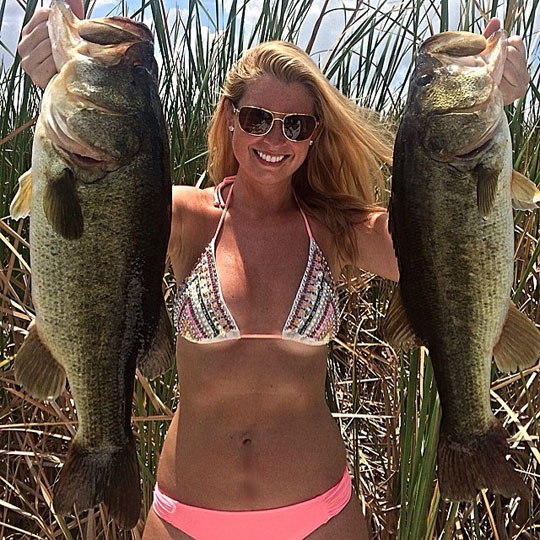 Well, it's time to think about those pleasant warm days  and what they can bring.  First up is largemouth bass.  For those fishermen that want to have a great time, this is it.  They'll be in spawning mode all around Lake George and in connecting lakes and springs.  You'll be able to troll the shallows and see beds.  From that point, you'll back off and pitch plastic lizards, craws or tubes at the holding fish.  If you want to locate them not on beds, you'll use plastic swim baits, spinner baits or lipless crank baits.  Usually you'll fish areas at the mouth of springs or near spawning flats.  You'll blind cast just try to locate a concentration of fish.  But as they say, sometimes it works, sometimes it don't.  But, hey, that's why we call it fishing, not catching.
For trying your luck closer to home in our area, look for spawning flats and in canals.  But only after a nice series of warm days and warming nights.  All of the ideas mentioned work, but remember there's one bait that's live and will locate fish eating and that's shiners.  With these little fish, you can fish creek mouths, spawning flats and around docks in shallows to coves.  Cover is cover and these beauties love to ambush their prey.  So come on in and get a couple dozen and knock them out.
Next up will be specks.  These beauties should be firing all out.  They should be doing the spawn on the full or new moon.  So baits used will be minnows (live), road runners, slab daddy's or other jig type baits.    Use all on the spawn, then head to the edge of lily pads or around shallowish tree trunks or pilings.  Locating methods include trolling or drifting the edges until you find them.  Once located, it's possible to harvest a good number of them in our area.  So get a bucket of bait and go to it.
Catfish will or should be oky with the bulk of these beauties being caught in the shallower cove to canals and back.  They love to spawn if the weather cooperates by the end of the month.  But it's all up to nature.  So grab a couple cups of night crawlers or some bait shrimp and go to it.
Bream, if nature cooperates, will start nibbling a little more.  They'll love your offering of earthworms on big pads and the shell bars.  All that's necessary is a little locating and some bait and a fish fry could be in your future.
The salt water species, with this cool weather, will look for warmer areas in the river.  Areas like Doctor's Lake, around the bridge pilings, and near the spring in this area.
Reds and flounder will ride the area with trout taking up the slack.  Baits of choice are medium shiners, bait shrimp and of course the arsenal of lures.  Lipless crank baits, plastic minnows and grubs or jig heads.  Spinner baits also foot the bill.
Well, it's time to go.  So 'til next time, keep your line wet and your lure movin'.–Richard.