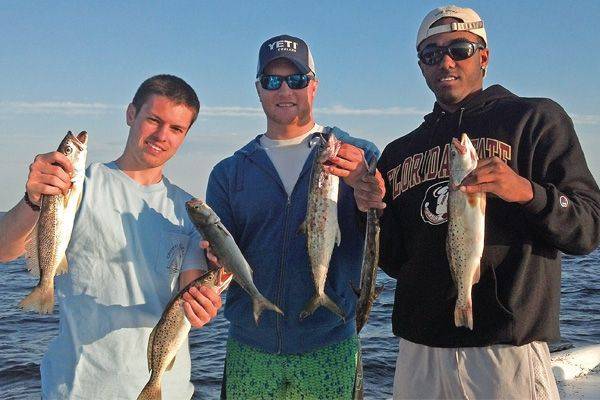 [dropcap]J[/dropcap]anuary fishing is normally jacket weather, and every year plenty of fish are caught by folks wearing jackets. So keep your jacket handy, and your fishing gear ready. Though winter fishing is not for everyone, those that fish in the winter know the numbers of fish caught can be outstanding. Winter fishing is the month to save gas, as fishing within the river systems will produce fish.
Every fall, as the temps drop, fish migrate to the rivers in search of warmer water. Not every year is equal. Some years see a higher number of fish head up the river. The end of 2013 was an above average year, with good numbers of redfish and trout being caught. The deal is these fish will hold in the rivers until mid-March or longer. For anglers, that means more fish, close to the ramp.
If you can find some days this month that are not blustery, hit the rivers. Grab a few dozen shrimp, a dozen #1 circle hooks, and a small bag of split shots. There will be some break offs, so carry enough spare parts. Now, tail hook those shrimp, and sink them in the river. Be patient, and remember the incoming tide is normally the best winter bite.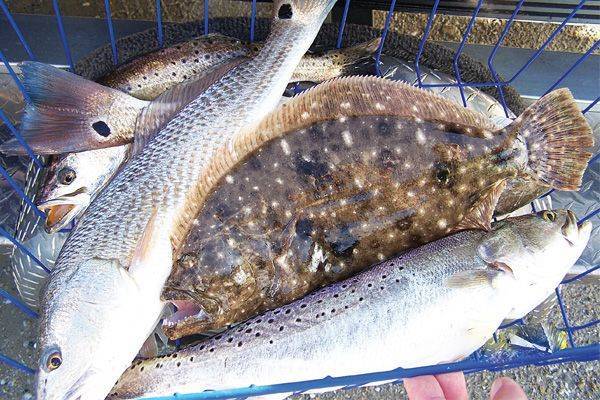 The break offs will occur because of the jagged structure on the river bottom. There are plenty of rock piles, oyster bars, logs and miscellaneous reef material in both the Wakulla and St Marks rivers. These are great places to find redfish and trout stacked up this winter. Also included in the group can be some super-sized sheephead. That is the main reason for the small circle hooks. They are great for catching tricky sheephead. There are a few ways to locate the structure hot spots. Remember to fish the center of the river, as most of the fish will hold deep. If you have a good bottom machine, use your sonar to mark structure and fish. If you have no sonar, try slow trolling until you either catch a fish or hang on bottom. Then turn and fish that spot. The other way is to bounce a jig, and find these hot spots. Fish slow, and keep searching until you find your fish.
If the weather moderates, January fishing can be on fire. The Guide Shop will have limited winter hours through February, but we have plenty of kayaks rigged and ready to go. We are also running guide trips, so if you need some fishing time, give me a call/ text/email.
HAPPY NEW YEAR and I HOPE YOUR YEAR INCLUDES MANY FISHING MEMORIES IN 2014.