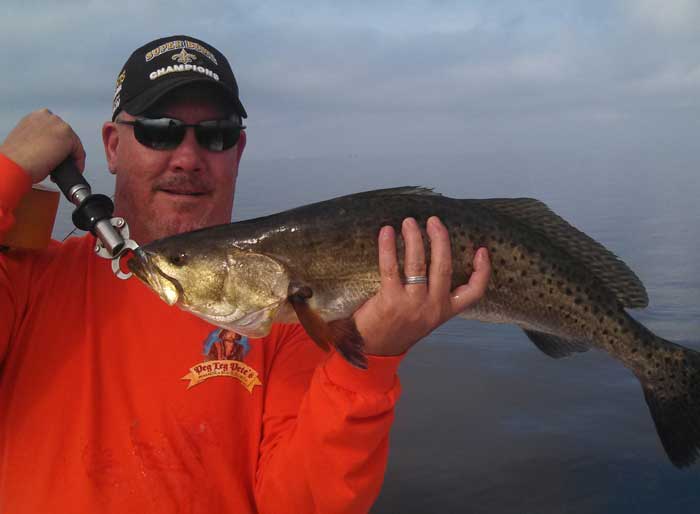 [dropcap]J[/dropcap]une is looking like the month that all the factors are coming together for the best fishing in St. Marks in 2014. With over 30 inches of rain already this year, and heavy May winds, we were off to a slow start to the 2014 season. June is the month that everything gets caught up. If it swims and bites, it will be here in June. Calm seas are the norm for June. This is the month to go catch a bunch of fish.
The trout bite went crazy around mid-May. As the water started to clear on a steady north wind, the east flats were the place to be. This month should continue the hot bite. The key is to find clear water in 3 to 6 feet of depth. The west flats should clear this month and also produce quality fish. If you can see bottom, fish! Cracking a cork and jig is always tops. A white or new penny Gulp will catch them.
Redfish have been missing from most spots east of the lighthouse, but they have to show up sooner or later. The tremendous amount of fresh water from the Aucilla River has stopped most grass growth, and halted most pinfish from coming inshore. If the pinfish show this month, so will the reds, The west side of the bay has been your best bet for finding reds. The oyster bars around the Piney Island area are a great place to start. Get your topwater game ready for summer action, and look for those jumping mullet.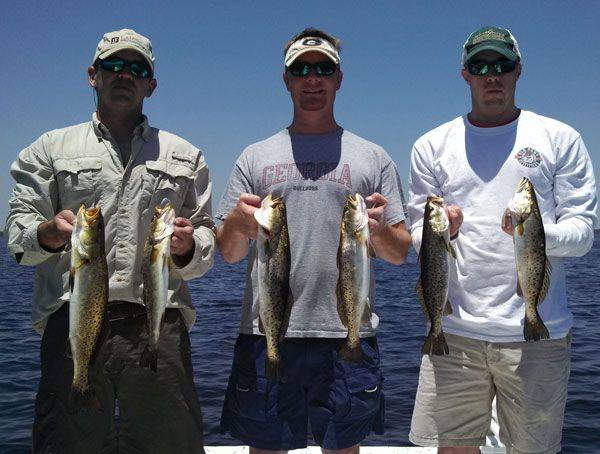 The cobia showed up late this year, but they are here. Look for cobes 6 to 10 miles offshore. Most bait schools are holding farther offshore, because of all the fresh water. Find a calm day and take a ride to a public reef. Toss some cut bait, or sink a few live baits. Make sure your knots are tight, and your drags are serviced. Fish up to 60 pounds have been caught already!
June begins kid trips, as summer is here. June is an awesome time to take the kids fishing. There will be a dozen species to catch, including the kids favorite, SHARKS! There will be plenty of drag screaming action happening this month. Do the kids a favor this summer, take them catching. Add a little science and BAM! They will be hooked for life.
If you need help finding some fish, give me a call or text. The guide trips keep on rolling. Remember we have plenty of rental kayaks rigged for fishing, and The Guide Shop is open. It has everything you need to go catch fish, including the latest fishing reports. Stop by St. Marks Outfitters—721 Port Leon Drive, St Marks.