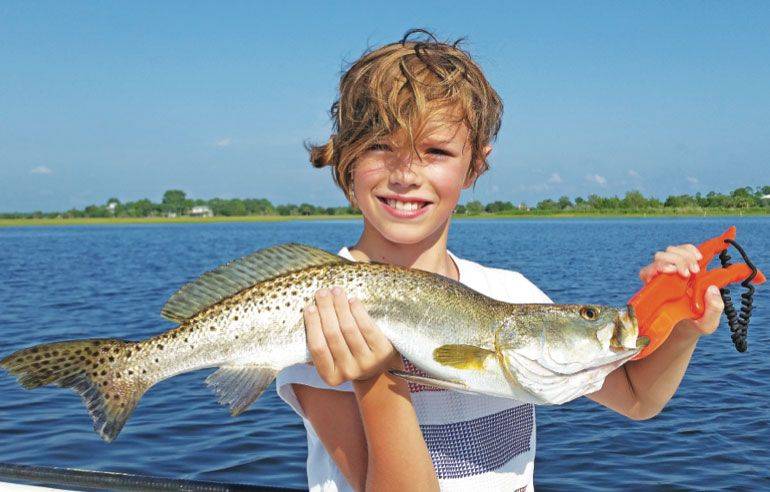 [dropcap]I[/dropcap]t is totally nutty that September is already here. Fishing through the August heat has been better than normal. September can be considered fall, but it will still fish like summer. October is truly when we start to see the cold fronts, and shorter days lower the water temperatures. So, keep your same tactics this month for best results and if you are not catching, now is the time to change your tactics!
The trout bite has definitely moved to the deeper and cooler water. Look for most trout to be hanging in the 4 to 6 foot depths, with deep water access close by. Fishing the edge of canals will produce quality fish. Sinking pinfish on the edge of deep grass flats is a sure thing. Use a cork rig and try to get your pinfish in the middle of the water column.
Redfish are still slow to show this year. The flats east of the lighthouse are holding fish, but not in the usual numbers. Fish the usual spots for best results. Every creek mouth is a target. Gold ADL spoons will catch them. Stick and move, and cover water as fast as you can and you will increase your odds. The September flood tide is a great time to explore the grass line.
This month could be your last shot at a giant tarpon! On a scale of 1 to 10, tarpon fishing has been a solid 5. There are fish in the bay, but not in big numbers. There aren't too many bad spots. Concentrate on the points and shoals west of the lighthouse. Also, the mouth of the East River has been holding fish. Live bait works but we have jumped a bunch on white Gulp jerk shads as well. Increase your odds by dropping a chum block and getting the food chain fired up!
This month is a great time to find a fat cobia! Look for cobes to be on every public reef in the bay. Get there early and fish as the sun rises high. If you sit still and are in the right spot, they will find you. Keep a few live pinfish ready, but that same white Gulp jerk shad is also deadly!
Fall fishing is coming! We are booking trips into October but November can also be outstanding! Give us a call/text if we can help you find your fish. The Guide Shop is OPEN, and we have plenty of kayaks rigged and ready to fish. Call to reserve your guided trip or let us help you plan your own fishing adventure.