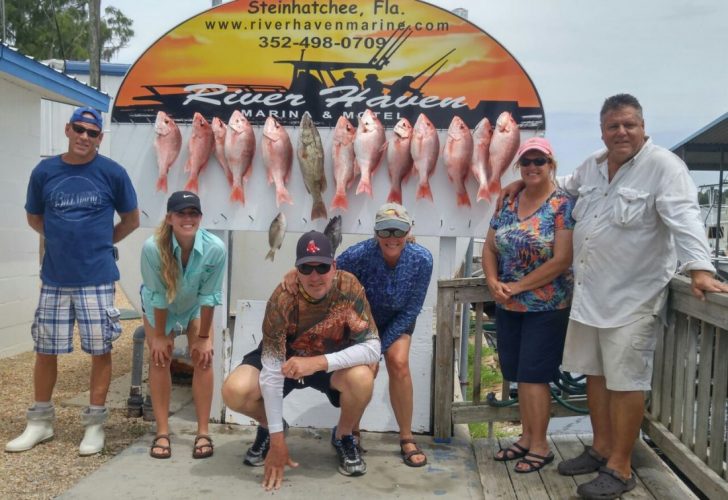 Steinhatchee CAM SEPT 2017
Capt. Brian Smith 
Don't expect the change to be noticed at the beginning of the month but by the end of September you will feel the season of fall start.  It is something to look forward to.  After the broil of summer—I didn't realize my earlobes had sweat glands—a cool reprieve is indeed appreciated.
So what does it bring?  It will start the march of our pelagic mackerel near the coast.  At the end of the month, fattened up Spanish mackerel will be crashing bait pods on the near shore banks such as Little Bank.  These aren't the spring run "razor" mackerel rather the post-season big party boys.  The best bet is to toss flashy jigs, spoons or plugs early in the morning or late in the evening into terrified bait pods.  For the most success, use a combo that can cast for distance and the reel has a smooth drag.  Remember, lighter lines cast further.  Some will think braided line.  However, braid does not have inherent stretch of mono to absorb the ballistic runs of Spanish mackerel.  The use of store bought wire leaders is the lazy mans way of stating "I don't want all the action I could have had and I'll trust my fishing success to the hands of fate from a mindless machine using the cheapest materials available."  Take half an hour, go online, and learn how to tie line directly to wire and wire to a snap swivel using quality hardware.  You'll be happy you did and your friends will be impressed.  Just saying…
The Spanish mackerel will be roaring around for a couple of months.  They will soon be joined by their larger cousin the kingfish.  For kingfish trolling weighted or un-weighted spoons or shallow diving plugs around the bait is a good tactic.  Also, if you can stand it, slow trolling live bait.  I'll try and remember to detail that next month.
Red snapper will be open the first four days of September.  Any hard bottom fifty-five feet or greater is over loaded with the delicious fish.  Gag grouper are mixed in, try using bigger baits, such as a butterflied pinfish to to get the bait past the snapper. After red snapper season closes, and you are targeting just grouper, you may need to move often to avoid catching and killing them. Why are snapper regulated so harshly?  I guess they are over abundant.  That doesn't make sense either, does it?