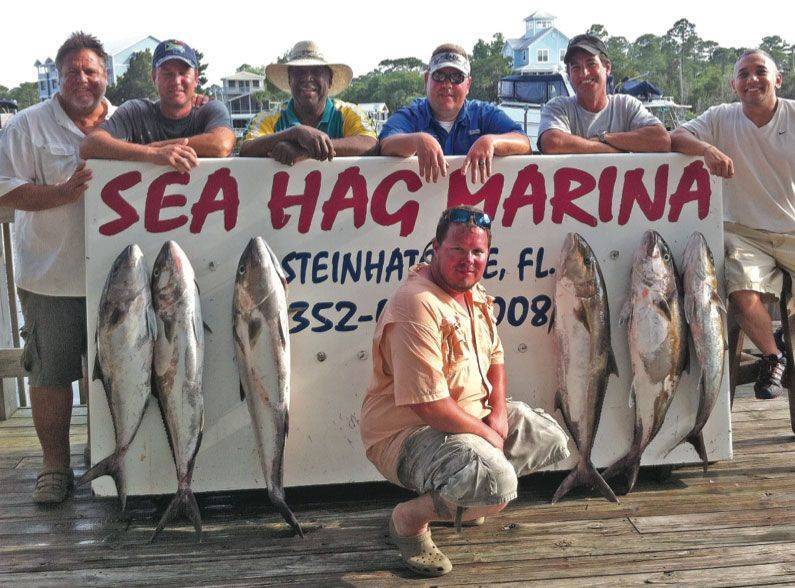 [dropcap]T[/dropcap]he early part of June is wonderful. Low RH translates there isn't enough hot water vapor sent skyward, the energy, to support the development of large afternoon thunderstorms. The atmosphere and sea are in a state of thermal stability, a happy, happy, happy state for fishermen and fish. Furthermore, the all extended pelagic relations are now home in family waters. Spanish mackerel and their big kin kingfish with running mate cobia are all mixing it up with our homeboy reef fish grouper and such. Even with the excessive rains, translating into a massive freshwater infusion on the grass-flats, trout and red fish catching has remained steady. It is reported best in the clearer waters north around Big Grassy Key and south around Pepperfish Keys and lower. Typical jigs and such are working, but take the time to catch some small pinfish to make 'shiner tails' for more success. Man can never produce anything better than nature already has.
Offshore amberjack are jamming! Jigs and spoons are a positive option, yet live bait makes it a party. Free-line a hand-sized fresh wiggling live-bait over any reef donkey haunt and the action comes to the boat, literally. It is well worth buying live-bait or taking half-an-hour to collect quality live-bait off hard live bottom before heading offshore. Be sure and know fish identification and fishing regulations before tossing the wiggly into your live well.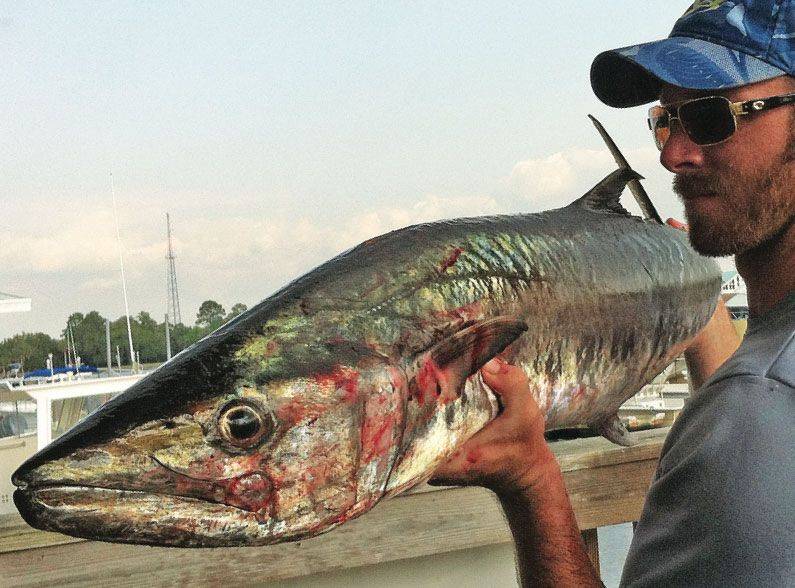 Cobias have finally won- dered along our coast in good numbers and size. Fishing for them here is often different than targeting them along the Panhandle where you see them cruising along the beaches with or without stingray 'indicators' in clear water. Think of targeting cobia more as hunting rather than fishing. Around Steinhatchee, there are two ways of approach. One is simply having heavier combination rod/reel baited with quality live bait, under a cork, on the leeward side of a drifting boat on the grass flats while trout fishing. Secondly, more focused, anchored in a slough that cuts through the flats with live or fresh cut bait off the stern and waiting in the style of catfishing from a river bank. Offshore fishing for cobia is similar, free-lining live bait or fresh dead bait in, on or around strong structures or high relief bottom.
A good cobia is worth the effort regardless of how you do it. Even if you catch one on a 'ready pole big spinner' with a big jig tied on. Always have a ready pole ready. Come fish Steinhatchee, you'll like it.