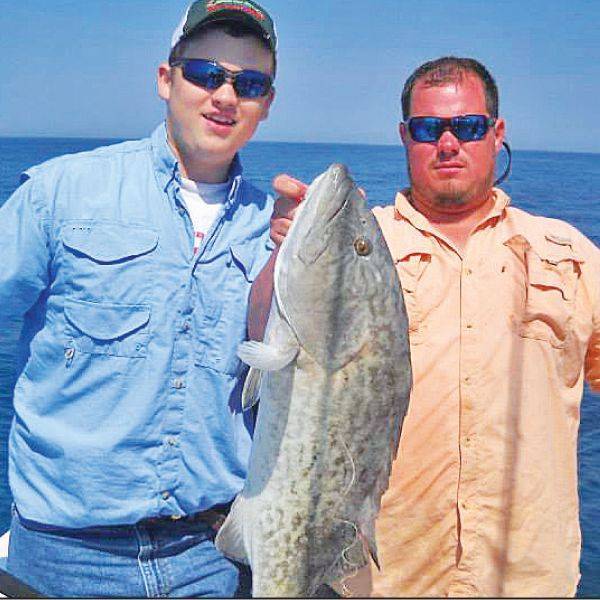 [dropcap]A[/dropcap] FAQ to me is, "When is the best time to come fishing in Steinhatchee?" The word May is always in the answer. May is a piscatorial party time with the blend of local reef fish with a mass influx of party favor baitfish and big pelagic party followers. May is awesome for anglers in and around Steinhatchee!
The party starts with the party favors. When the two punch twosome pinfish and pigfish return to the grass flats and a mix of blue runners, cigar minnows, Spanish sardines and cruising cousins cover the offshore waters; local reef fish get happy (hungry) and aggressive when the pelagic party crashers blow in.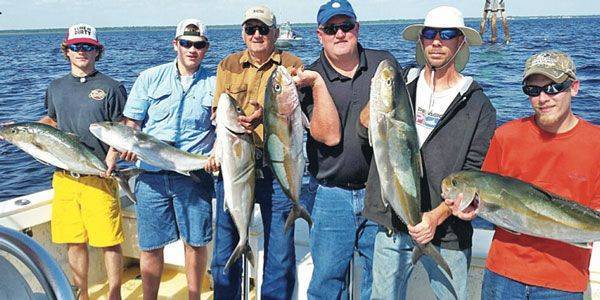 Redfish and trout take full advantage of the influx of pin and pig fish coming in from offshore, as well as, the pelagic baits running over the grass flats. Furthermore, cobia are first spotted and caught by inshore angles as these fish migrate along the coast from the south.
The Mosh Pit, are the bait pods just off the grass flats, 4-8 miles offshore, that are being crashed by ladyfish, Spanish mackerel, kingfish and others. Casting jigs, spoons, and flashy plugs into the mêlée is fish actionsquared. The clue is watching for the diving birds, they are action tattle-tales. You can make a 'memory day' just chasing pressed bait pods. Now, usually, the first of the morning and the latter evening are when fishing the bait pods is most effective. The fishing is sea dependent. If the seas are calm to slick, bait pods are pushed to the surface and visible. If the seas chop up, the bait pods will sound and working flashy artificial lures whether trolling or casting can still work. Or, try drifting live bait free-lined or under a cork.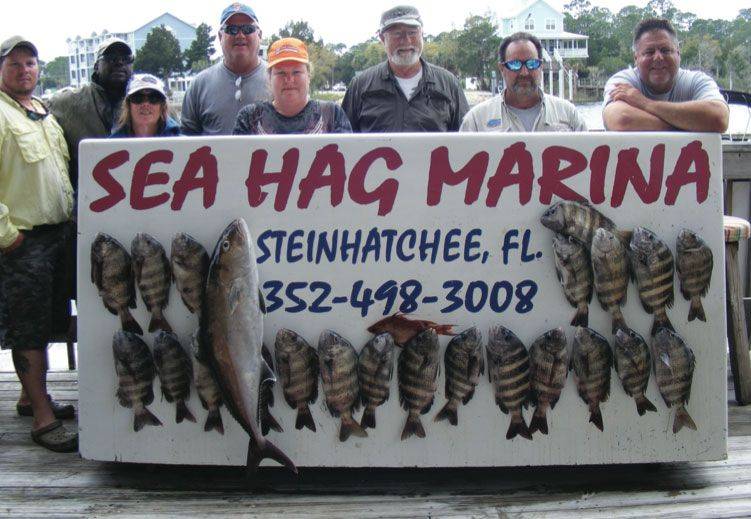 Any high relief bottom, natural or artificial, will hold a party congregation of pole bending, drag screaming, arm aching amberjack. The best bait? Free-lined live bait and the best is blue runners. Taking time to toss some flash jigs over known sheepshead haunts to acquire a dozen or more blue runners is time well spent. The drop-back live baits are, always, pin and pig fish. Keep in mind, fresh and frisky is best or resort to 1-4 oz colorful jigs and work them fast and haphazardly.
In May, gag grouper are closed in federal water. So red grouper are the main target. The best grouper bait is live, but to cull toward catching more red grouper use fresh cut-bait.
Anyway, May is one of the best times to come and fish Steinhatchee so make plans to do so.