by: Caitlyn Gatrell
During the summer months, fishing in Southwest Florida really fires up. A variety of species are on the prowl looking for their next tasty meal, and one of those being snook. Snook are feisty fishes putting up intense and strong fights, landing them towards the top of the list on best gamefish. Many anglers search year-round for that thump and drag screaming fun, reeling them in with big smiles, posing for photos, and then either releasing or taking them home, depending on the season. For most anglers, snook are the type of fish that provide many memories and fishing stories.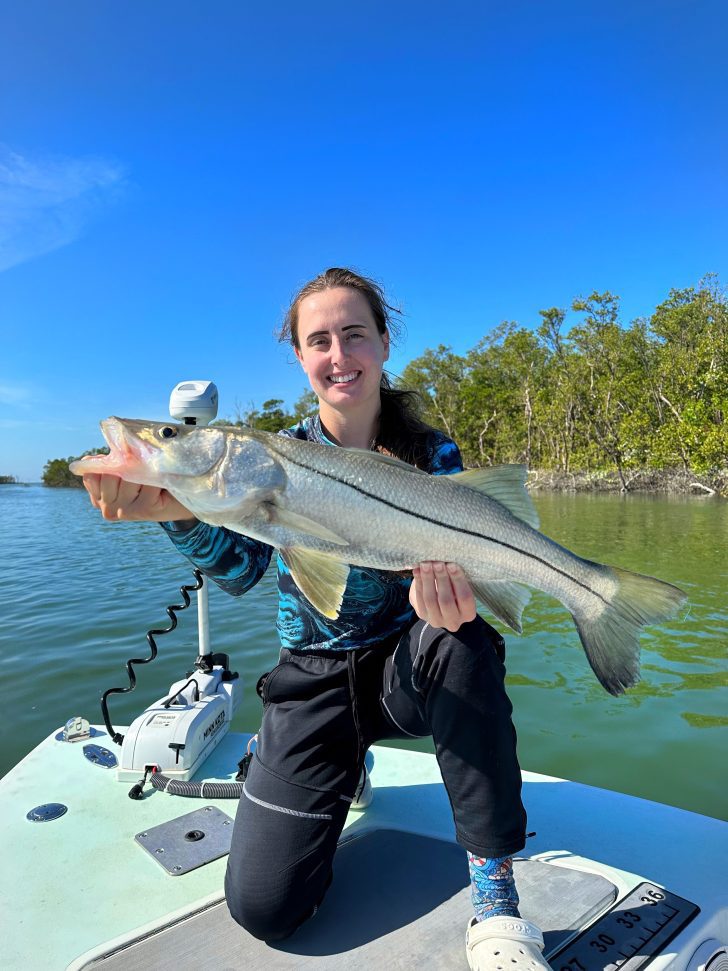 I can recall catching snook for many years, even the early years when I didn't even know what a snook was, ha-ha! But something about now, knowing the species and knowing the strength and power they hold, allows me to look at them in a different way, with more respect. As mentioned before, I am not the best at bringing in snook, so whenever I hook into one, it always is a heart racing event. The first snook that got me into fishing was an odd one. Caught in a small weir like area, a 32-inch snook with a large head but skinny body, slammed onto my live cichlid. Ripping the fish up while fighting the overflow from the current was a tough one, but with nowhere really for the fish to hide, I was able to pull her up. That snook definitely got me interested in catching them more often, and so now every time on the water, I look to find another big one.
Summertime really brings out the snook in our area, and we look to find success at hooking into the bigger ones. We use whatever bait seems to bring us luck, pilchards, mullet, artificial lures, whatever they are biting. As we spend most of our times fishing in the backwater mangroves, it can get tricky trying to pull them out at times. I have recalled a couple times hooking into a big one but unfortunately losing it to the underwater maze of the magroves. Every loss however is another opportunity for me to learn a better strategy, and therefore I put that to work each time I hook into another one. While we haven't had success yet at landing any monsters this year, we still have been able to hook into some nice ones. I recently have become a volunteer for GrayFishTag and have also made some efforts to tag some snook. By doing this, I am able to contribute to research and conservation purposes, and not just for snook, but the fisheries industry as a whole. As we are enjoying the summertime snook bite, I am keeping my fingers crossed for a big one soon!