By: Caitlyn Gatrell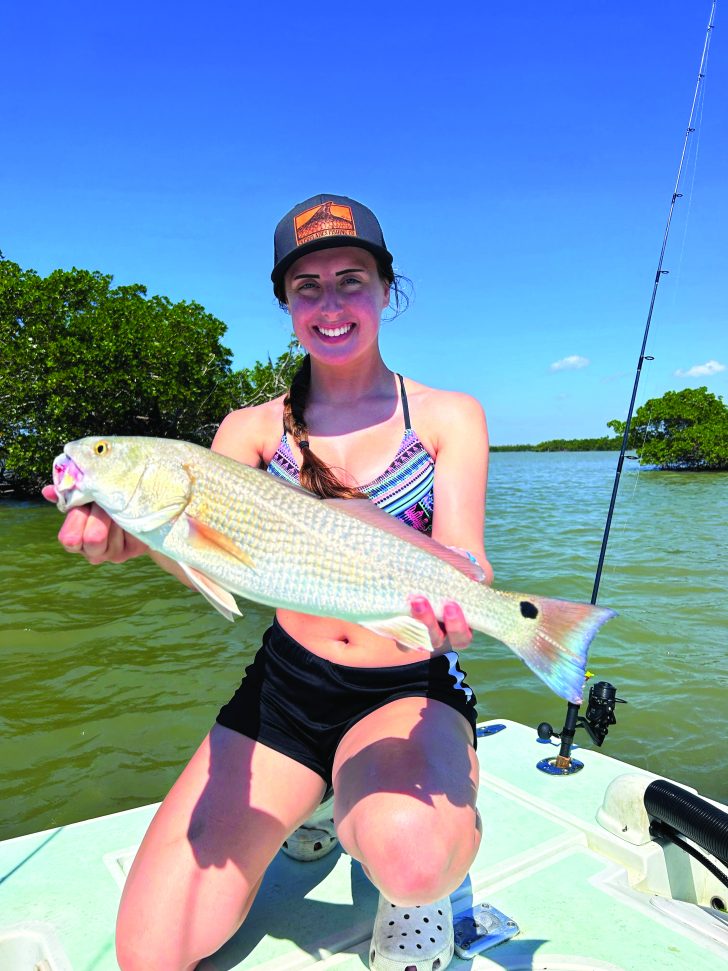 Redfish are a fun species to target in the fall months. They are more active during this time, thus providing greater chances at hooking up to some. My favorite way to fish for reds is to stroll along the shallows and inshore regions. We follow along mangrove lines and spend a good amount of time near oyster beds. During the cooler months they are loaded with redfish. One day our boat went back-to-back on bringing them in and ended up in the double digits!
I find that almost any time of the day allows for productive redfish fishing. However, the best periods are during high tide, as the shallow regions are covered with water. The oyster beds are just below the surface and schools of redfish are close by. They also lurk within the mangrove islands in search of food and shelter. When the tide is going out, a lot of bait are present and passing by these regions. This gets all the other species fired up, including the reds.
When we head out during the early mornings or the late evenings, we find schools of redfish blowing up on bait at the surface. Our go to method is to throw a topwater lure in there and watch them blow up on it. It's a pretty cool feeling when three people on our boat are hooked up to big reds all at once!
When it comes to bait, we like to use finger mullet in the 2-3 inch range or pilchards in the largest size we can find. We find our bait along beaches and shallow regions. We scoop them up with a cast net and make our way to our honey holes. In addition to topwater lures, swimbaits, including D.O.A lures and Gulp shrimps, are great.
One thing that can become an obstacle is structure. Redfish can travel out in the open, but we typically find ours close to structure, whether its mangrove branches or oyster beds. It's easy to get tangled up in the mangrove mazes or stuck along the oyster beds, which can be a challenge. When using artificial lures, we make sure to continually bounce them to keep them from sitting too long and getting stuck. For live bait, it's kind of a similar process but we go a little easy, so we don't injure the bait.
One of my favorite things about redfish is their strength and fun fights. Typically, I will feel a hard yank and then the line takes off. They make what I would describe a "digging effect", where you just feel them slightly jerk the rod down as if they were trying to "dig", or swim, downward. It took me a bit of time to figure it out, but now I know what a "redfish bite" feels like.
Fishing for redfish in Southwest Florida is a lot of fun once they become more abundant in the fall.