Capt. Chad Carney
Especially colossal claws like this 5" beast from last season's opening, just 1/8" less than my record claw!
Last October I wrote Grabbin' Stone Crabs, a basic article. Here's the link if you missed it, coastalanglermagazine/docs/naples2020 on page 15.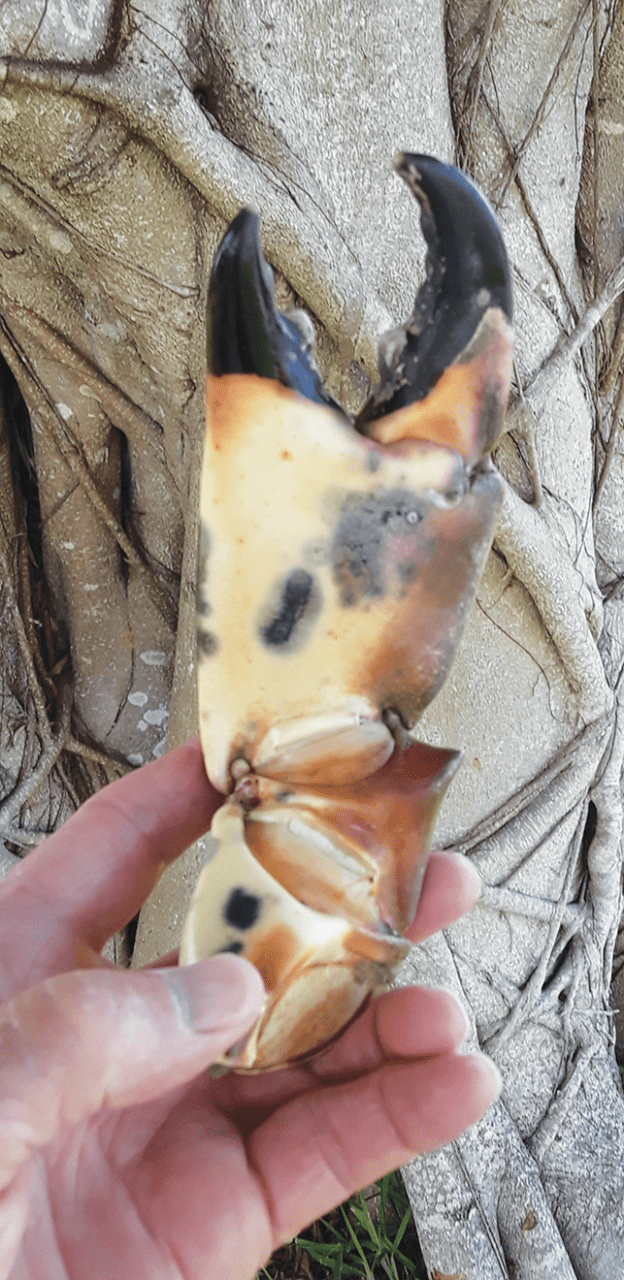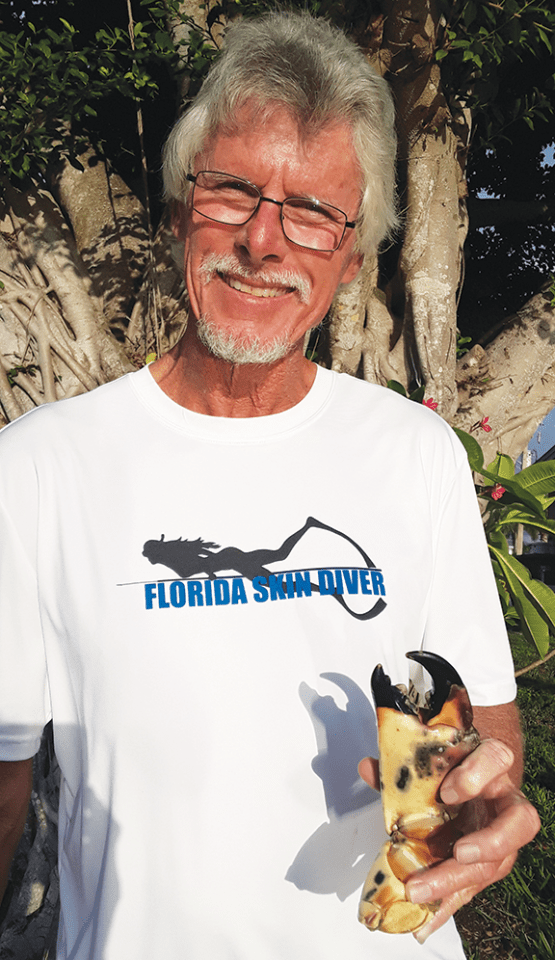 This year's title is Advanced Stone Crabbing. I left that hot spot alone, until this season's first dive. I often see crabs I took a claw from the previous season & they're sporting a new small claw, and their old claw is now big & fair game. When you see one armed bandits, you know somebody beat you to the spot. I still check it, because tough to grab big claws often elude novice crabbers. Don't waste time on small speedy crabs, you want big claws which are strong, & fortunately slower. Many big crabs are sideways in great holes & need to be pulled out with one finger at the knuckle, then crab his 2nd claw. A crab sitting just in front of the hole can be blocked with a quick crowbar placement behind, then pounce on the whole crab with your full hand. They'll grab the bar if you let them, so some divers do it to make it easier to avoid getting pinched, but it doesn't help you secure the crab. If you see claws laying around, it means an octopus has eaten the crab bodies.  Still, look to see if new crabs have moved in. If you feel a crab that is soft it is ready to molt & the meat will be shriveled, and not taste good.
Where do you find stoneys? In SW FL they like to dig dens under bridges, jetties & seawalls with low viz & high to extreme current areas, where pilings, I-beams, boulders, shopping carts, tires, concrete blocks & natural limestone meet the sand. These are tough long dives with jagged oyster shells & barnacles, entangled cast nets & wads of fishing tackle, so wear full old wetsuits, which you'll tear up. It's very common to lose your buddies in this kind of water so you'll be more productive if you're solo-capable. Try to avoid fishermen because they'll hook you, so add cable cutting EMT shears to your kit. Goliath groupers are plentiful and I've been grabbed, so hold onto your crowbar. Keep your eyes open for lost treasure: anchors, fishing poles, & lost dive gear. I once found a huge propeller I could barely lift.
Sites are tough to get to without a vessel. Scuba diving, I use a 10' RIB with a poly/floating tow line & a small grappling anchor & a 24" boat legal dive flag. Freediving is really a workout & I'm very careful about these dive sites. I use my 16' kayak with the same tow line & flag.
See MyFWC.com for all the regulations, some changed last year. They also have a claw removal video.
A bag of tasty stone crab claws is worth the adventure!
Capt Chad
Captain Chad Carney – Diving Instructor & Journalist
mobile: 727-423-7775
e-mail: chad.carney@yahoo.com
https://www.facebook.com/floridaskindiver/