By: Capt. Philip Watson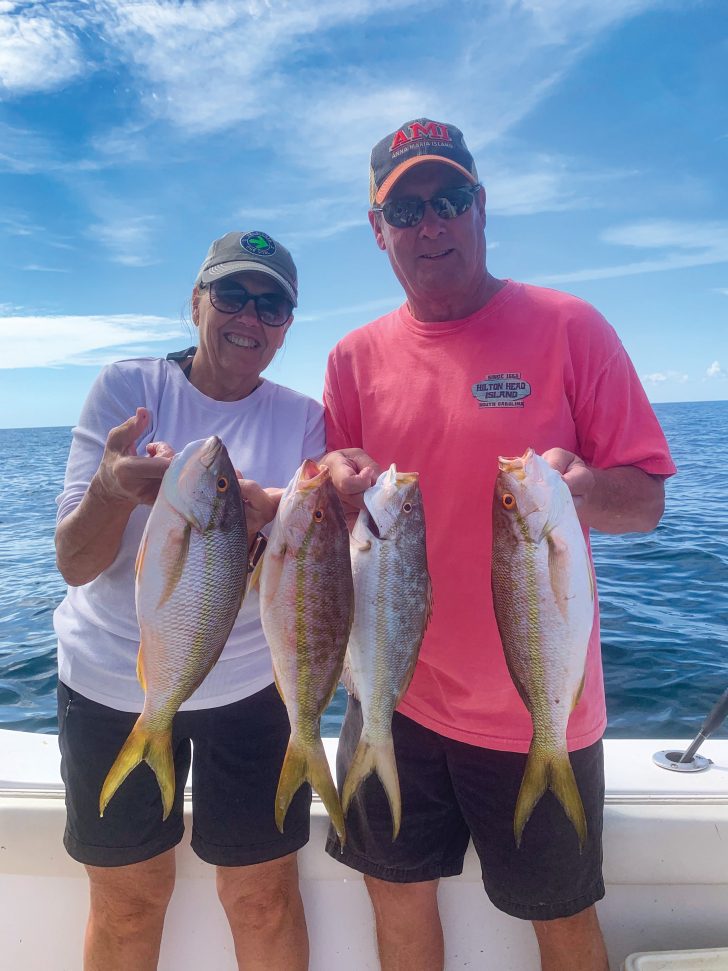 Finally, some cooler temperatures are starting to show up and the fish are chewing! This is the month where gag grouper really show up strong. We can typically catch a few all year long but after the first couple of cold fronts they get into a pre-spawn aggregate. If and when you find these fish piled up they will be chewing hard and I like to target these fish on ledges anywhere from 35' to 90'. These ledges will also hold your mangrove snapper, hogfish, and porgys. I typically like to use bigger baits such as Grunts, Pigfish, and large Pinfish. You will want to beef up that leader to 60-80lb test. Once these fish bite you better be ready to get them up. The big ones can defiantly be heart breakers.
Our highlighted trip this month was with the Williams crew. The five of us headed out for a quick 6-hour reef session.  On the way, I found a nice little piece of bottom full to the top of Lanes snapper so we spent 30 quick minutes putting about 20 on the ice. We pulled anchor and scooted over to some near by ledges and started free lining for yellowtail snapper. In short order we put 10 nice Flags in the bucket when a huge cobia pops his head up. I blasted a bait out to him and he went for it immediately but bone headed me shanked it! Oh no… We got back on the free lines and continued with the yellowtails and had Mr. Cobia follow one back to the boat. I launched a pinfish at him and this time connected. After a long battle we boated a beautiful 60lb fish. Soon after we pulled anchor and hit a ship wreck on the way in and ended with a nice 46" barracuda that slammed a Cuda Tube. Awesome day!
Just Kickin Back Charters
Philip Watson
Anna Maria Island, FL
941-226-1100