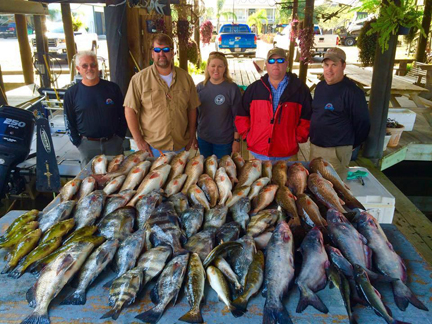 by O'Neil Williams
Every once in a while, say yearly at least, you need to save your pennies and grab a destination, a new fishing hole, new tactics, meals, experiences. It's an idea whose time has come. Get my point!
Well here's one where the fishing's great and perfect to enjoy with your sons, daughters and even dads and moms. Read on. This is a good choice for your search.
Cajun Vista Lodge in Barataria, Lousiana. Owned and operated by one of the most pleasant, hardworking fellows I've ever met, Thoephile Bourgeois. Well, actually his name is Theophiles Jean Anton Bourgeois III. Cool huh? Instead of reading on, you can check him and his facility out by visiting www.neworleansfishing.com or www.cajunvistalodge.com and those two websites will fill you in completely. However, since you're already into 10% or so of my feeble attempt at communication, stick around a bit. I don't get paid for this and only do it because it makes me feel important, so do me a favor and read it. If you stop now, you'll hurt my feelings and I'm sensitive.
Barataria Bay is an hour south of New Orleans and, if so inclined, you can stop there for a stroll down Bourbon Street, but since this is a fishing column, we'll have to handle that subject later.
So, what's at Cajun Vista Lodge? Let's describe it this way; once you park the truck, you'll hang there for a few days and not drive another inch. Three grand meals of ultra-fresh seafood smothered with Cajun seasoning with Gumbo and smoked sausage on the side enjoyed daily, prepared and served by loving hands, boats manned with Coonass guides completely at home with the locations of myriads of schooling speckled trout and redfish and comfortable, spacious private bedrooms and baths. Don't stay too long. You'll get completely spoiled. The only downside to the whole visit is that you'll have to listen to that whiney Cajun music. It'll get old fast. Toefiel will change the station, but it won't help, it's on every channel.
Cajun Vista Lodge can accommodate 60 fishermen comfortably. In a hurry to go? I am and will be there in September of 2017 with a group of 30 or more. Make your plans now for the fall.
Back to the important part; the fishing.
Ok, here goes. Barataria Bay is inside what is called 'the marsh', otherwise known at the Atchafalaya Basin, a 30-mile wide, 90-mile long stretch of rich fertile water full of grass, lily pads, canals, all 4 feet deep with millions of speckled trout and redfish. The 'marsh' is the direction and route that the Mississippi wants to flow, but the river has been managed by some very smart people to go to New Orleans via giant berms. As an illustration of the amount of catchable trout, the legal limit is 25 per day per person and, by lunch time, the boat, with three to five fishermen, will have a limit. 75 to 125 trout. Really! Why so great? For the last few centuries, the Mississippi River has been dumping fertile water into the 'marsh' from the Midwest and the fish population enjoys it. It's a giant 'nursery/hatchery' for game critters.
How about the reds? Wow! Put on a Road Runner with a plastic trailer or a shrimp tipped jig under a popping cork, cast to a cut or creek branch filtering from a grass line and hang on. You'll will have another limit before lunchtime, then go back out. The reds are big, healthy, strong, hungry, brightly colored and living there by the millions ready to bend your rod and make you smile heartily. If it helps with the struggle, know that you'll probably be eating the rascal red that night after he's spent a few minutes on the Big Green Egg and he's served to you with Cajun Rice and hot sauce and, if you've been nice and so inclined, a cold beer.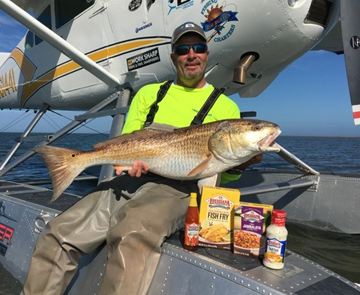 I'm including a few photos to whet your appetite for such a trip. It's only about seven pleasantly driven hours from the Atlanta area and totally worth the expense and effort. The downside is that you will be totally spoiled and desirous to returning monthly which, I might add, you can do because the season is 12-months long. If you like, and haven't already made plans, be in touch with me, O'Neill, via my Facebook page (oneilloutside) or website or call directly to Cajun Vista and speak to Josie and come along with us. It's a group of guys from here and there that I call the "Deeply Disturbed Fishermen". The dates are September 21 – 24, 2017. Travis and I will be there to exchange stories about each day's adventure.