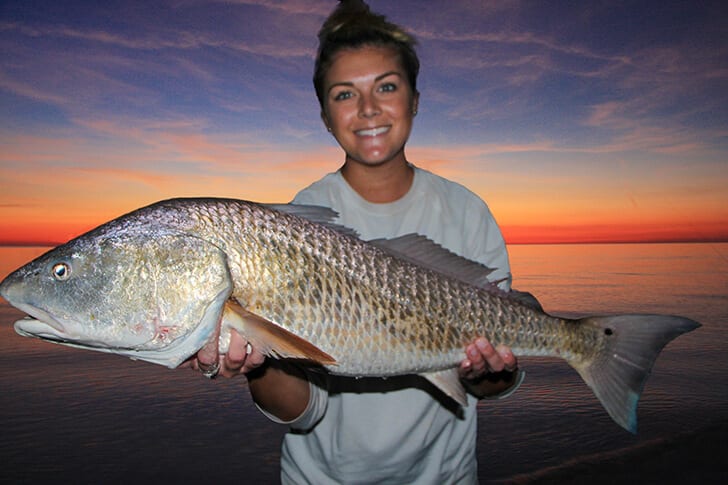 By Brent Bensmiller:
Happy new year! As we start off the month of January, we can expect the water temps to be the coldest of the year at around 68 degrees. We will also see very low winter tides that can be tough to fish, so pay close attention to the tide charts. Cold fronts will push through the area often, so fishing the warmer days before they arrive will be the most productive.  There will still be a chance to get on some solid fish in the mangroves and throughout the bay, you will just have to put in the time. Plenty of nice sized sheepshead will be in the area with the bigger ones pushing 20 inches. Redfish and snook will be lurking around oyster bars and mangroves looking for an easy meal. Fish will be very lethargic, putting minimal effort into chasing bait while the water is cold. The most productive time of day to fish will be in the afternoon when the water warms up a bit. Picking up a few dozen live shrimp from your local bait shop will be your best bet. Many of these game fish in the bay will be looking for a jumbo shrimp twitching near any kind of structure. For you guys throwing artificials, it is very important to slow your retrieve to entice the fish in the cooler water. A twitch, twitch, pause retrieve reeled in half of the speed as you usually do in the warmer months should suffice.
January will have less action than most months, making it the perfect time to take care of maintenance on all of your gear. Refer to your service manual and take your time breaking the reels down, making sure to keep all the pieces in order. Clean the reels thoroughly, applying oil and grease where needed. After cleaning all your reels, it's a good idea to do maintenance on your kayak as well. Check out the entire kayak looking for cracks or potential damaged areas that may cause a leak. If the underside of your kayak has a hole or even a bit of wear, you can have it fixed at your local kayak shop for little to nothing. Fixing bungee cords and pad eyes will save you from loads of frustration on the water too. Keeping all of your gear in order and properly maintained will make for a better experience on the water and lead to more caught fish. Winter fishing will take a little more patience but put in your time and you will be successful. Get out there and start off the new year right with some screaming reels! Tight lines!