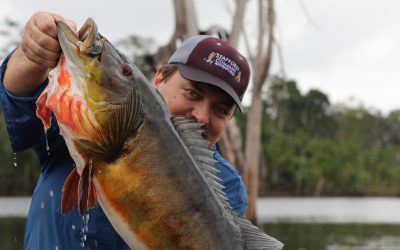 There is absolutely no other fresh water fish that hits as hard and gets anglers blood pumping than Peacock Bass. These beautiful fish are things of legend as they attack top water with the power of a freight train, crush lures and if you are not properly geared they will straighten hooks and be gone before you make your first crank on the reel. Do not even try monofilament line as large fish can break 30-pound braid and if the drag is too loose, they will have you in the trees before you can say oh shnitz!
Brazil's Rio Negro river has been the king for these monsters for past two decades but what a lot of anglers do not realize is that the original records were set in Colombia. Actually, Colombia's' rivers flow into the fore mentioned Rio Negro which runs into the Amazon River in Brazil. Since the 80's Colombia's Amazon region has been off limits to anglers for obvious reason but now that FARC and other guerilla groups have signed a peace deal and laid down their arms, there are several great opportunities to be had.
I am writing about one of these brand-new operations called Las Lagunas fishing lodge. As with most of these new operations, the fishing is excellent as you have huge peacocks and lots of them as they have been left alone for close to 30 years. These fish have basically never seen an artificial lure until now. Erik von Sneidern who was one of, if not the best outfitter during Colombia's dove shooting heyday of the 70's and early 80's (and still runs a pigeon hunting operation in Paraguay) has returned to his roots and started this new operation. Erik's father pioneered the peacock bass fishing in Colombia and had the first floating fishing lodge of the Amazon in the early seventies with the "Arc of the Orinoco". If you look at the record books his father still holds line class records for peacock bass!
Erik has teamed up with several of the local indigenous Indian communities and now has a multiyear, exclusive rights contracts to this huge area that encompasses literally hundreds of miles of virgin fishing areas. He has even created trails through the jungle and brought in boats to reach lagoons that were completely unseen and unknown except by the locals until google earth.
I had the privilege to go down and be one the first to fish his new operation and help him scout the area out. The fishing was awesome and with the knowledge we learned during our recent trip, I cannot wait to go back. While the largest fish we boated was a mere 20 pounds we caught numerous 15 plus and were catching on average 30 fish a day between the two of us. Colombia has several species of peacock bass with the speckled or three bared being the largest with butterfly peacocks being the smallest but we even caught those up to 8 pounds as well and that is a good butterfly as the record is just over 10 pounds!
The trip originated when I landed in Bogota, Erik had a driver waiting to take me to a hotel close to the airport as I had an early 90 minute flight the next day to Puerto Iniridia. Erik was waiting for us at the airport and we quickly headed to the river for the last leg of the journey to the lodge. The boat ride is interesting on its own, as we passed several Indian villages along the way and went by the Mavicure Hills which are a three-rock formation called Pajarito (Little Bird), Mono (Monkey) and Mavicure. These can only be accessed by the river so going by these is a treat in itself. Once we arrived at the lodge the local village was hard at work finishing the new camp. I say village as they literally brought most of the community, wives and kids alike and set up camp while the men worked at building the complex and the wives were weaving mats to use as flooring for the decks. The lodge complex will take only 6 anglers at a time, all in single accommodations. Now while they are tents, these are 10×20 cabin tents on elevated platforms complete with a 10×10 front railed deck and quite nice with a full-sized bed along with furniture to hang and lay out your gear and electricity to keep your cameras charged. He has built walk ways from the tents to the bathrooms and main lodge. The bathrooms have flush toilets, showers and sinks.
The fishing was fantastic as the first morning, the first three fish were 17, 18 and a 20 pounder. Being all of 10 minutes to the complex we even took a break for a hot lunch, a quick nap and then fished till dark. We caught fish casting, trolling and again as we were trying to learn more about the area, we used several different styled lures and tactics. I did not bring swim baits as in Brazil the piranhas would destroy them but we had no problem with piranhas Next trip I will have an assortment of large soft plastics to try out. Fishing for peacocks you will want to have at least 50-pound braid such as Power Pro or Spider Wire. With Rip Rollers and other propeller lures, mono just has too much stretch and casting heavy mono is difficult with the different sized lures.  Long A bombers worked great and when we found groups of schooling fish, it was double hook ups for several casts. The water levels this year have been unusually high throughout the Amazon with several of the Brazilian outfits having to cancel groups in the heart of season and some are still shutdown. Being in the head waters, the water levels where very fishable and still dropping every day. I imagine the best fishing will be over the next couple of months, March and April should be incredible. One day we decided to try a hidden lake about a mile into the jungle where Erik had created a path. This lake for some reason had higher water. We still managed to catch lots of fish, mostly butterfly peacocks that averaged 4 pounds and also caught the 8-pound butterfly but we did manage to catch a 18 pound three bar peacock bass. While the water was high and a brief rain shower that stopped us for a little bit, we still caught over 40 fish in this "secret" lagoon. On another day, we traveled back up river to a completely different fishery and were welcomed with another great day of fishing. We also saw more "critters" in this area including the famous pink freshwater dolphins. What caught my attention was all the baitfish throughout the trip. It seemed everywhere we went you would see baitfish jumping out of the way of something larger underneath, very similar to when Tarpon swim into a bait pod. We saw numerous parrots, macaws and other birdlife throughout the trip so wildlife in the area is endless.
While we are still learning the fishery and our biggest was 20 pounds, speaking with the locals there are stories of 40-pound fish! Now I have seen a photo of a 30 pound peacocks that were speared in Colombia plus I had one fish spool me and finally broke off with 80# braid. Erik had a fish literally break a lure in half so I know there are monster fish in Colombia just waiting to be caught. I will be going back in March and April if anyone is interested!
By: Ron Stafford