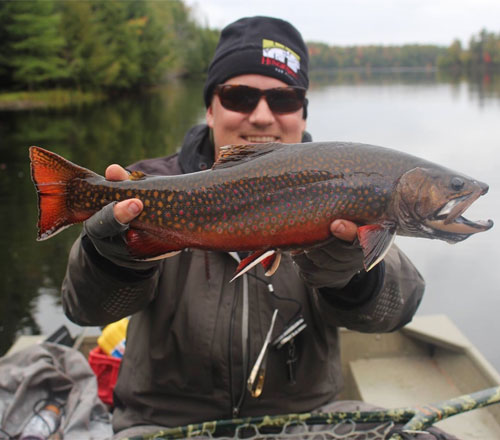 By Evan Bottcher, Fly Fishing Guide at the Hungry Trout
There is an incredible mix of experiences to be had fly fishing for trout, but the one experience that truly has me hooked is fly fishing for brook trout in the ponds of the Adirondack Mountains in Northern New York. Over the years I have been lucky enough to fly fish for trout all over the USA. Large slow moving tail waters from New Mexico to Montana and steep freestone streams from SW Colorado to Alaska to Labrador. Few things compare to the beauty, and the intimacy of a remote Adirondack Pond, and in this instance, a pond that produces wild populations of 3-6 pound brook trout throughout the fishing season.
Tucked against the edge of 'The Blue Line', the border of the Adirondack Park, lies a 2000 acre parcel of land that surrounds 3 ponds, providing ample protection from angling pressure and invasive species alike. In the early 1980's with the aid of Bill Flick, son of legendary Catskill fly tyer, Art Flick, and a team of biologists, this pond was brought back to life as an original Adirondack pond, supporting nothing but heritage strain Brook Trout. 30 years later, Twin Ponds remains as a spectacular self sustaining ecosystem, free of trout stocking, and loaded with a dense reproducing trout population.
The Hungry Trout has had the privilege as the only outfitter with access to these ponds since their fruition. We have guided them extensively and have become very close with the flora and fauna of the land, and the temperament of the brook trout that reside here. Your average angler will have the highest catch rates while trolling the shorelines, points, drop offs and spring holes scattered throughout the pond. Flat-water brook trout prefer structure and can be pulled out of dense logjams and deadfall.  While trolling we use type 5 (5-6 inches per second) full sinking fly lines, short leaders (3'-7') and a variety of different flies usually imitating various baitfish, sculpin, or leeches. Black Ghost, Grey Ghost, Baby Brook Trout to name a few. We use a lot of wooly buggers, zonkers, and simple bunny leech flies to imitate leeches, and large wool head sculpin patterns.
When fishing ponds, it is important to keep the following in mind. Where are fish feeding (location), how are they feeding (what type of retrieve), and what are they eating (what fly).  Fishing different depths while trolling is accomplished by the amount of fly line you have out coupled with the speed of the troll. More line and slower troll = deeper retrieve. A faster row, will lift the plane of the line for a shallower retrieve. It seems simple to figure out, but it is amazing how picky these trout can be for the 'correct' trolling scenario.
For those anglers who are not a fan of trolling, we also fish these ponds casting and retrieving utilizing 'Loch Style' techniques. These techniques eliminate the 'chuck and chance' practice of casting from a boat, and provide a methodology to finding the fish and figuring out their temperament and fly preference. When using this method we will use anywhere from a 5'-15' leader, usually always with 2 flies spaced minimum 4' apart. We use many of the same flies we use trolling, but many more specifically designed for this application. One example is the 'Mini Humungous' a wooly bugger style fly designed for flat water – look it up. Many European patterns come into play as well such as blobs, and boobies.
The same thought process applies. Where are the fish, how are the feeding, and what are they eating. It is about adjusting to the conditions at the given time, and matching those conditions with proper fly line and fly selection. This is better for an advanced angler because casting a full sinking fly line 50' can be a difficult task, but is necessary for properly covering the water column. When fishing 'Loch Style' techniques, we always have the wind at our back, casting downwind and drifting toward our target. This allows a neutral relationship between current, and our sinking fly line, which gives us our best sink rate. Just like in a river, we need to combat the current to get our flies into the zone and keep there as long as we can. We work the water column from the top down, utilizing different flies and retrieves, until find the trout, continuously adjusting for the most success.
Whether it is the classic ADK method of trolling, or utilizing Loch Style technique, the feeling of setting a fly into a wild, 3 pound Adirondack brook trout is unbeatable. There are few places in the country where one can find a fresh water eco system that compares to the Adirondacks. There are few places in the country where 3-5 pound brook trout are a regular occurrence. To catch trout like that, in a setting like this, is an incredible fly fishing experience.