by Alan Ritchie
The major dredge project in the navigation channel at Wiggins Pass is progressing nicely and changes are occurring daily.  This dredge, that will move over 100,000 cubic yards of beach-quality sand, is beginning to show major progress.  The contractor has now completed their initial "pilot channel" from the Wiggins Pass Day Marker (light) straight into the mouth of the Cocohatchee River.  The new channel is now operational and is marked with temporary buoys.
The old channel is no longer usable and the permanent channel markers that were previously in place have been removed. As part of the dredge design plan, some of the sand dredged from the new channel will be placed in the old channel to close it off.  This will increase the water flow (both tidal and river flow) in and out of the new channel. The picture below shows the approximate position of the new channel.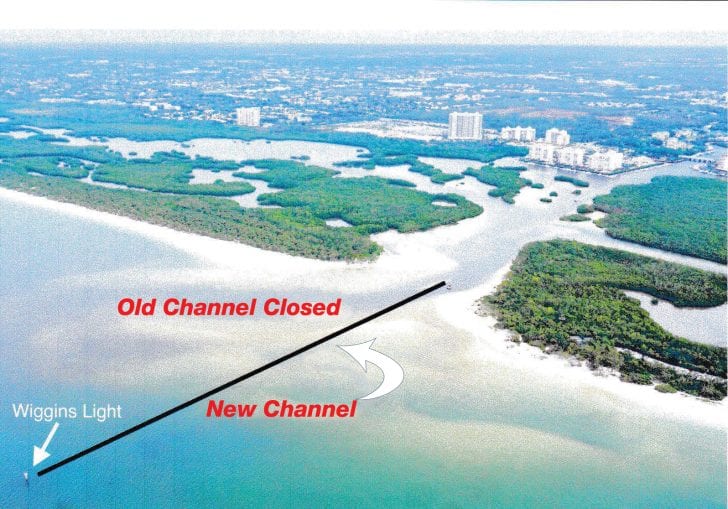 The dredging will continue into the pass to the east and will clean up some of the current navigational issues just inside Wiggins Pass, particularly at the intersection of the channel heading south into Water Turkey Bay.  Cleaning up the shoaling at the intersection will significantly improve access for boaters heading south through Wild Turkey Bay into Vanderbilt Lagoon.
The best and most reliable information on navigating the pass and obtaining up-to-date information at the channel intersection just inside the pass is to contact the dredge LORI HILL on VHF Channel 10.  For simplicity, there is no need to make your initial contact with the dredge on VHF Channel 16 first as Channel 10 is monitored by the dredge crew 24/7.
As previously reported, the dredge conditions are changing daily and mariners need to be patient, courteous with other boaters and the dredge crew, and maintain safe distances from obstacles.  Hazards include anchor lines, a large submerged dredge discharge hose and other obstacles in the vicinity of the equipment.  You should also expect some congestion in the area of the channel intersection.
Be patient and be safe!
Safe boating!