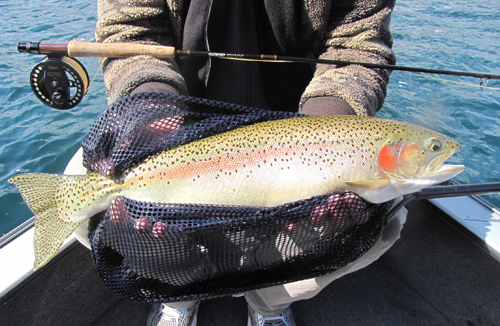 "Opening day of trout season saw varying creek and stream conditions in the region depending on where you were. Many of the low lying area creeks were blown out and turbid making for difficult fishing conditions. The tributaries of the eastern Finger Lakes were dropping and clearing at dawn on April 1st, and the fishing for lake-run rainbows was excellent.
Increased flow from heavy snowmelt combined with moderate to heavy rain the last day of March resulted in spawning rainbows still present in many of the pools. Spawn sacks and nightcrawlers did most of the damage. Fly anglers drifted traditional egg patterns and wooly buggers in black fished low in the trips accounted for good catches of drop back rainbows.
With forecasted precipitation in the days ahead it is likely the tributary fishing will continue to be good into May… Try to get on the creek as it is clearing and dropping after the rain.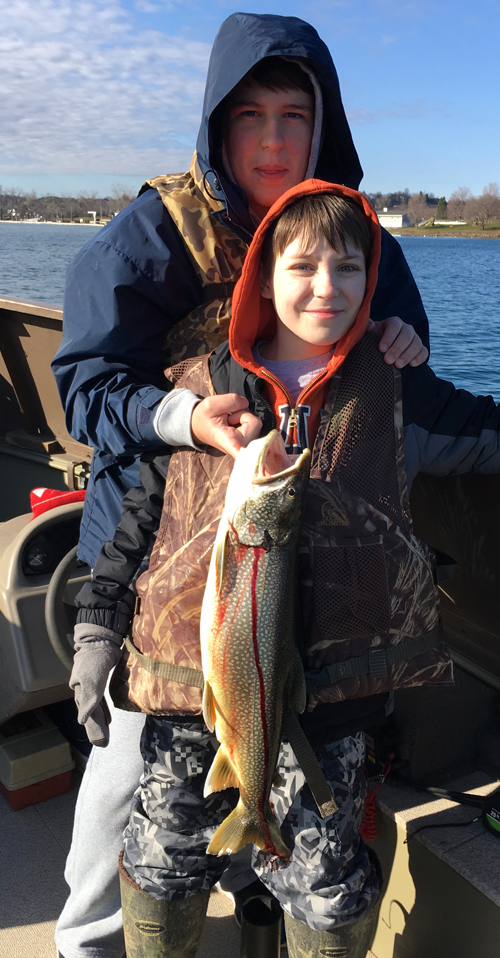 The local domestic trout streams will be tough for the next week or so as high and turbid conditions look to be the theme. Of course, that is no reason to sit home. Several tactics can be employed to bring the brown trout swinging! Spin fishers that stay deep with a juicy nightcrawler will connect. A gold, number 5 countdown Rapala is a good choice as well. But sometimes, at the peak of the deluge, the creeks are un-fishable so it is best to wait for levels to begin dropping.
Anglers often wonder how the trout survive such flows. But they do…Finding respite from the strong current deep in the eddy's and undercut banks, feeding on the countless earthworms that are washed into the creeks and collecting on the bottom, out of the main currents.
The timing of such spring floods can be difficult on hatchery trout that are still adjusting to their new homes. Todays hatchery managers are raising much healthier and stronger fish than in the past and survival rate is much higher even in difficult conditions, flood conditions. The high water is much less a factor in stock trout mortality than are worms, split-shot and eagle claw hooks.
On the open water anglers are taking advantage of the low pressure system to connect with perch and lake trout in the shallow water areas of the eastern Finger Lakes. Several nice catches have been reported. Fathead minnows seem to be the key for the perch on all the eastern Finger Lakes. The perch are schooled heavy. Anglers need only find the greenest weed beds in 16 to 20 FOW and drift until you connect.
Casting spoons and plugs from the deck of a boat, working over weed beds in 15 to 20 FOW is producing consistent strikes from roaming lakers. Ethan and Ben Frazer were fishing on board their Dad's Lund Alaskan on Skaneateles Lake when they hooked this 25 inch Lake Trout on April 1st.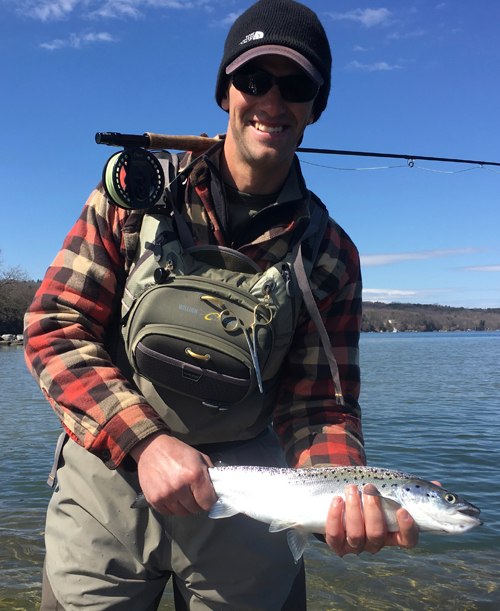 Heavy flows are dumping stained water into the eastern Finger Lakes and the roaming landlocked salmon and trout are drawn by the current and flotsam looking for drifting food. Shore fishers and lake trollers are keying in on these locations and finding decent catches. I was able to get out last weekend with a friend pictured below, Brian Lansing of Fayetteville, New York, to do some fly casting from shore. We hooked up with several acrobatic landlocked Atlantic Salmon on six weight fly rods! All fish released.
In the eastern Finger Lakes the lake trout is quite common and as table fare the medium-sized ones are excellent. I am a proponent of catch-and-release fishing and all the large trout I bring to net when guiding are released unharmed. The exception is the lake trout. I will grease one now and then and broil its boneless and skinless fillets with lemon, butter, and garlic. Served over a plate of rice, it's delicious!
I have always felt that some fish were made to eat, for example, perch and an occasional lake trout. And some fish were made just to catch and admire, then carefully release. Like rainbow trout and Atlantic Salmon. This is just my opinion however, and with the meat of my report, I always give a side of opinion.
Tight Lines!