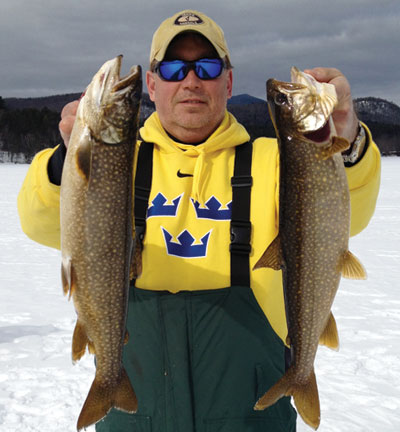 By Capt. Stephen George, Allwater Guide Service
When I started ice fishing as a kid, we were equipped with the most basic of gear that included wooden tip ups, a plastic sled to carry our gear, a bucket for bait, and a hand auger. With this we could target any fish anywhere we wanted.  To "dial in" the location we relied on our knowledge from summer outings. Determining the depth of bottom was done with a sinker on the line and dropping it 'til it hit bottom. Finding fish  was pure luck: Oh, how times have changed.
The ice fishing revolution occurred in the 80's with the invention of the portable ice shelter, more specialized tackle and electronics. The portable shanty allowed fisherman to withstand the onslaught of cold and wind and no longer were you subjected to the elements while sitting on a bucket. Now fisherman can go anywhere, at anytime and be comfortable. The next big thing was the development of portable sonar units/fish finders. Our everyday lives have become dependent upon gadgets and gizmos and my first ice fishing sonar unit was the "Fishin' Buddy" by Hummingbird. The fish finder allowed us to quickly check the overall depth of the water and it provided a glimpse of what was there; rocks, mud, weeds and most importantly, were there fish? The first outing with my son on Schroon Lake for lake trout  proved that the investment was worth every penny. We set up in 100' of water and our Fishin Buddy said the trout were cruising at 40' amongst clouds of smelt, so we stripped out the line and set bait from 30 – 50'. Within minutes we had 7  Lakers on the ice before he and I could set up our 10 tip ups.
Technology has grown in the ice fishing industry and we now are using flasher units that can show tiny jigs, flies, bottom structure, and fish of all sizes in 30'-100' of water. By interpreting the flashes and colors on the screen, the size, abundance, as well as, the attitude/reaction of fish with regard to jigging action can be figured out. How the fish are reacting to jigs and baits is essential to keying in on what they like. With the new electronics, the behavior of the fish to a certain jigging action and lure selection can immediately be determined and if changes in the jigging cadence, or lure size, lure color are required, changes can be made with real time information.
No other fish can be more finicky than perch. Locally, we are blessed with a variety of fantastic lakes for perch such as Lake George, Schroon Lake, Lake Champlain, and Lake Pleasant. I prefer to set up over weed beds in 15-30+' of water  and utilize tear drop Tungsten jigs tipped with bait. Often to "match the hatch" I will tie on my own custom nymphs tied with pheasant tail or peacock hurl 6-9" above the heavier jig. Size 10 – 14 hooks tipped with a Maki Plastic soft bait have also proven to be very effective. In deep water, I will utilize a Hali or micro-spoon to get the rig to the bottom fast. My standard perch rig is an ultra-light rod with 4 lb test mono with a fluorocarbon  leader. Like bass fisherman, I keep 3 or 4 rods rigged up so if changes are needed, I can quickly switch to find out what they like. In clear water, it may be necessary to go with 2 lb test clear mono or fluorocarbon and mico-jigs. Always keep in mind that other predators such as walleye, pike, and/or lake trout cruise the perch beds looking for a meal; make sure your drag is set accordingly and expect a long fight. Nothing is more exciting than landing a big fish on ultra light gear and 2 lb test line.
Perch fishing is a game of inches and one must be constantly on the move to keep up with the roaming schools of fish. Expect to drill lots of holes to find fish and utilize other forms of technology to find structure such as rock piles, flats, or drop off's. The Navionics App downloaded on my smart phone allows me to see lake contours and structure as I move around on the ice. Using the Navionics App along with my Vexilar Fl-18, it is easy to locate potential structure and determine if fish are there. Not to say you won't have to put time in. Like I tell everyone, fish have fins and move wherever they want.
Through the use of electronics, structure and fish can be found and once you are proficient with the interpretation of what the electronics reveal, it will certainly help put more fish, of any species, in your cooler. The one thing all this technology won't do, is make the fish bite …. and that's fishing! Keep in touch with local bait shops such as Jim's bait in Mayfield,  Fish307 in Lake George or through IceShanty.com to find out where the hot action is and what the fisherman are saying is working. Always think safety when venturing out on the ice and good luck to everyone this season.