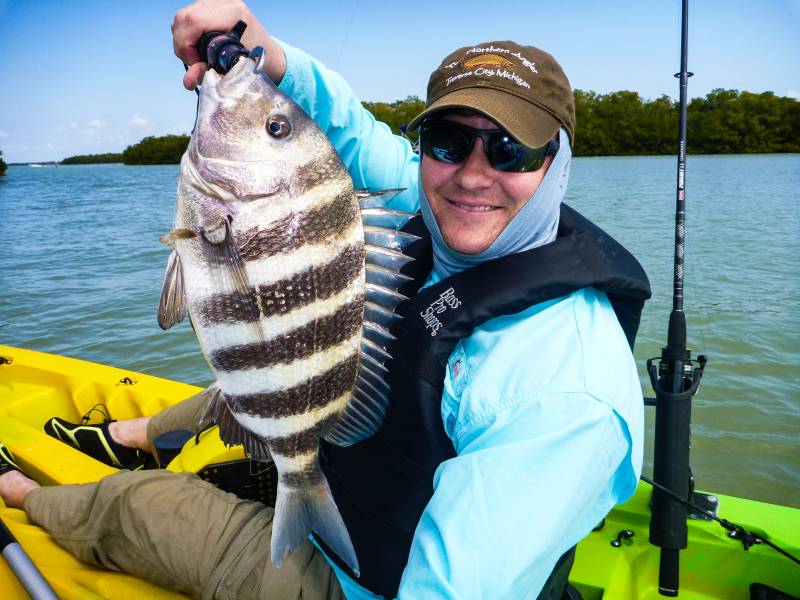 By Brent Bensmiller:
As we transition from fall to winter you can expect the water temps to remain in the low 70's. You will want to spend most of your time fishing the bay and brackish waters near river mouths. The bait of choice this time of year will be live shrimp. Rigging shrimp under a popping cork will lead to more bites, with the action and noise of the cork grabbing the attention of everything nearby. Tie the cork to the top of your leader and pop it often to keep the fish curious. Hook the shrimp towards the back of the head, just before the body.
Oyster bars in the bay will hold plenty of mullet and gamefish this time of year. You can expect redfish and snook to be lurking in these areas during winter low tides and be on the lookout for tailing redfish in the skinny water. As these fish scavenge for food in the mud and around oyster bars, you will sometimes see their tails sticking out of the water. This is always an awesome sight to see, as well as a great opportunity to sight cast these fish. Cast your bait within 10ft of these tailers and you are likely to get a strike. Cut mullet on the bottom will weed out the smaller fish and provide a better chance of hooking an overslot monster. Free-lined shrimp will get the job done on everything else that's chewing.
Fishing the mangroves for sheepshead during December will yield great results. You can expect to catch plenty of these convict fish within a few hours-if you can hook them. The locals call them convict fish because of their black and silver striped appearance and their tendency to steal bait off your hook. Sheepshead have human-like incisors and strange looking molar teeth, which helps them nibble the bait off your hook.  You may find that you are just giving them free meals all day, so feeding your hook through the shrimp's body, makes it much more difficult to steal and will increase your hookups. Smaller hooks are going to work much better, I usually don't go above a 1/0. Look for areas with moving water and deep cuts, as these spots will hold the most fish. Although they may be difficult to catch, after a bit of patience and learning how to hook them, you will have some excellent fish to eat for dinner.
You will come across many other species of fish this time of year including jacks, trout, puffer fish, snook, reds, and black drum ambushing baits in these same areas, which will keep things interesting. Remember to slow things down with the cooler water temps. Many of these fish will be lethargic and moving at a slower pace. For you guys using artificial, a slow retrieve will get the most action. The winter bite takes a little more patience but it's well worth it.
Good luck out there guys and happy holidays!