By Diogo Yamada


When I arrived in the United States, in December 11th 2019, with the idea of ​​promoting Vertical Jigging, I had the honor of meeting many experienced fishermen and from that day until now, vertical jigging has grown a lot across the United States, especially Slow Pitch Jigging. With the lack of products on the market, due to the products shortage in 2020, I felt compelled to act. Traveling to Japan was impossible so everything had to be resolved by exchanging emails and phone calls. After many online meetings with the factory designers in August of this year 2021 we were finally honored to release our first batch of the new brand ONIWORKS.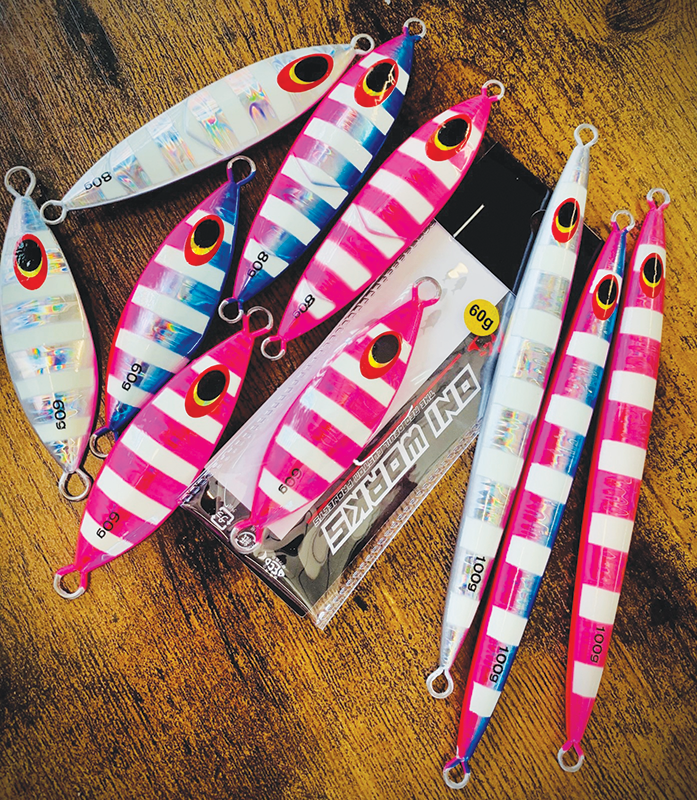 ONIWORKS was first developed to supply the demand of Florida West Coast and Gulf of Mexico to be used in deeps from shallow water to 150 deeps
The first batch of jigs includes the jigs:
– 60g mosquito, designed for shallow water slow pitch jigging. Finished in a teardrop shape that floats and falls quickly just as not to drag the bottom unnecessarily. Mosquito has the power to attract many fish with its unimaginably sharp action from its seemingly adorable form.
– 80g Leafly Multi-Purpose model that condenses the basic operation of slow jigging A teardrop type that can be used regardless of the situation that supports slow jigging. Even rod work with fine slits in the nose allows the jig to run laterally. The balance slightly closer to the front makes it easier to generate a flat hitting action during a fall, and the jig is finished with the basics of slow jigging.
– 100g Navigagor Is a sharp slide and fall Semi-long jig that supports everything even at slow and high pitches. Navigator was developed with the concept of light pull resistance and slide. It can weakly appeal to bottoms with weak swimming ability and fish in the deep sea, and slides widely with long jerk to appeal strongly to blue fish. It is a semi-long jig that can handle not only slow but also high pitch.
New OniWorks Jig sizes and weights will be available soon.
In the United States, The Fisherman's Hut in Bradenton, FL, is an official OniWorks dealer and distributor (If you want to become a OniWorks dealer contact us). Check out www.thefishermanshut.com