Bahamas Billfish Championship Update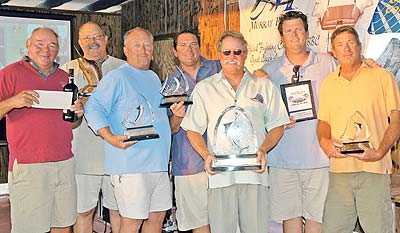 By: CAM Staff
As of press time, the second leg of the world's oldest billfish tournament series, the Bahamas Billfish Championship, had just wrapped, and the participating teams were bound for Harbour Island (May 25-28), followed by Guana Cay (June 8-11) and Treasure Cay (June 22-25) for the three remaining legs.
After completing two tournaments of the five-tournament series, team Zeus ranked first place overall with 5600 points. The top spot was heavily contested, with team Wave Paver, a close second overall with 5400 points and team Chasin' Tail, standing at third overall with 5100 points.
Leg 1: Central Abaco Championship
The Championship kicked off its 38th season in late April with the Central Abaco Championship. Sixty-two billfish were caught and released by a fleet of 35 boats fishing the three-day leg. Bear Trap, a 66-foot Spencer led by owner John Stout and Capt. Greg Eklund, took top billing with 2800 points.
During the season opener, 62 billfish were caught and released: 17 blue marlin, 27 white marlin and 18 sailfish.
Leg 2: Cape Eleuthera Championship
For team Chasin' Tail, three days of fishing at the Cape Eleuthera Championship certainly showed that the 60-foot Viking catches what it's chasin'. Led by Howard Webb and Capt. Robbie Valco, the team kept the pressure on by catching blue marlin each day of the tournament. In catching and releasing four blues over the three days and adding a white marlin to the count on the second day, the team amassed a total of 2600 points to take first place at this tournament.
During this leg, the 23 participating boats caught and released a total of 58 billfish: 25 blue marlin, 20 white marlin and eight sailfish.
Each Championship tournament is governed by a uniform set of rules for qualifying billfish, with cumulative points determining the overall Bahamas Billfish Champion. And per Championship rules, all catches are validated using time- and date-stamped digital images, with all participants signing affidavits ensuring fish are released in accordance with IGFA and Bahamas Billfish Championship rules.
The Bahamas Billfish Championship was founded in 1973. Two scholarships for Bahamian students pursuing degrees in marine biology or advanced education in marine technologies are endowed through the Championship.
For complete details, the very latest information and overall standings, visit www.bahamasbillfish.com or contact the Bahamas Billfish Championship at (866) 920-5577. You can also email info@bahamasbillfish.com.
The following two tabs change content below.
Fishing Magazine, Coastal Angler & The Angler Magazine is your leading source for freshwater fishing and saltwater fishing videos, fishing photos, saltwater fishing.
Latest posts by Coastal Angler Magazine (see all)
Comments