Rich Ellison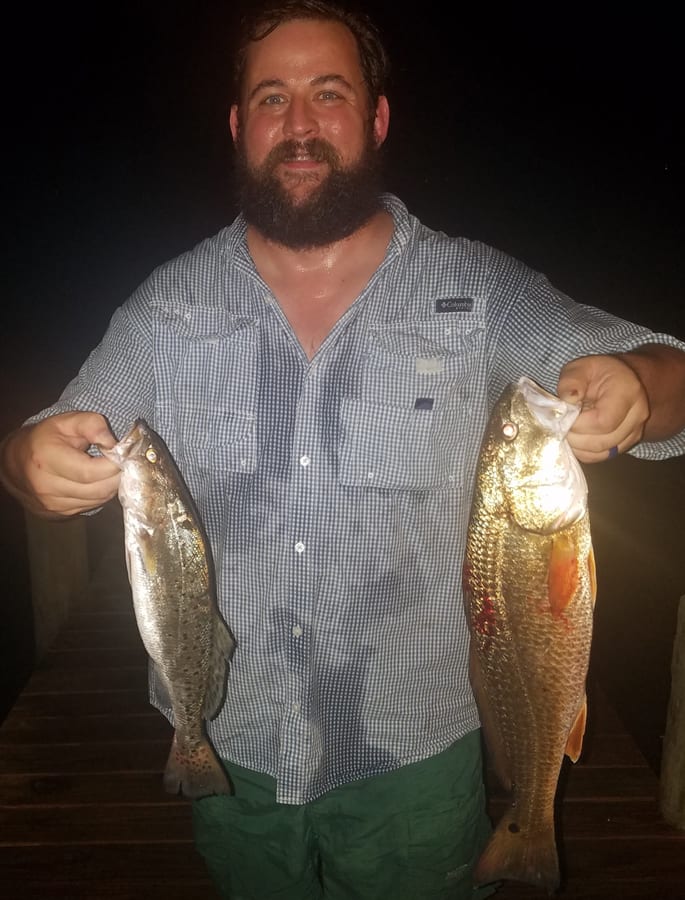 Here we are in the dog days of summer & the night fishing is red hot. I have fished Bon Secour, Fairhope, Point Clear, Weeks Bay & Daphne. All places are holding fish, but I must admit, they are getting picky. For the first time in the many years I've been doing this, my go to bait has failed me. Most nights I fish Gulp! on a jig head. It has always produced reliably, but this month I had to change things up a bit. On more than one occasion I was sitting on a light surrounded by feeding fish, but nothing would bite. I took my friend Tony to Bon Secour for the Rodeo & the fish were uncooperative. Frustrated, Tony changed to a Carolina rig, and I'll be darned if he didn't catch a pup red followed by a bull ½" too long for the tournament, because the Rodeo money was for slot reds! The following week I took my friend Chris & we caught enough to eat, but used top water, crank baits & Rapalas. I'm not sure if fishing pressure is affecting the fish; what they're currently eating is more likely the culprit.
Now that we have the fishing report out of the way, I would like to address 10 things that new kayak fishermen should know:
I. Always wear your PFD, use a light & leave a float plan
II. Always abide by game laws. There is nothing worse than a greedy fisherman who keeps more than the law allows.
III. Never crowd a dock that has people on it.
IV. Never release a fish without first reviving it.
V. Always release trophy fish to go and make more trophy fish. Take a picture & measurements if you want to mount it.
VI. Never discard line or lures into the water & always pick up trash, even if it's not yours.
VII. Always carry two rods minimum, because one guarantees a backlash or wind knot.
VIII. Never disturb native wildlife. Some fools simply feel compelled to bother alligators!
IX. Always respect the privacy of someone's honey hole. If you are lucky enough to be taken to a secret fishing spot, enjoy it & move on with your life. The water is big, find your own!
X. Always go find your own fishing spots. Not happenstance this is listed twice!
We kayak fisherman are a tribe, and nothing makes strangers friends more quickly than this common interest. The only thing in my many years of fishing to ever make me feel hostile, is spot poaching. 99 percent of the time I take people fishing & we have a wonderful time. There is always one isn't there? There is one person I took fishing a few times that to this day has yet to find their own fishing spots. To further aggravate injury, they will actually send me a report; often with pictures showing them many fish over the limit. They also love to brag about how the fish fear them. It is laughable really.
I have told friends who were on the other side of this, fearful of getting on my bad side, "I don't own the bay. Fish where you like." And I mean that from the bottom of my heart. It is completely infuriating however, to beat someone's favorite spot to death while keeping the limit or OVER Limit; every outing. The summer night time action should continue to be on fire. Y'all get after them, but don't forget the manners your mamma taught you!
Rich Ellison
Outback Fishing Adventures
251-223-7085