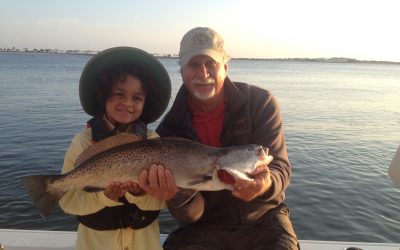 Mayport Report April 2017
The weather of March should hold a reminder to us as an example on how quick it can change. That being said I believe the cooler days of March helped our fishery out on a positive note. Look for the jetties at Mayport to hold good numbers of reds, trout, sheepshead, black drum, and ringtails. High clean water should be what you look for to find the fish. On the high outgoing tides trout will be found by casting float rigs on the edges of the rocks with live shrimp. Try to vary the depth based on the areas you fish. Try to have one angler fishing tight to the rocks on a shallow rig and another fishing deep to see where they are. The water temps are still in the 60's and they will be balled up in tight schools. I prefer a light tackle Inshore Select Ugly Stix 7ft with a Penn Slammer 3500. If you haven't tried this reel out you should. Work in varying depths but look for clean water both inside the rocks and out.
The reds will be hunting for food on the high fall so go deep. Pitch a ¼ to a ½ oz jig ten feet out from the rocks up current using a jumbo live shrimp. Many of the fish will be oversized so you might have to throw a few back. Sheeps will also be in the same zone so don't be surprised if you bang a few of these too!
If you're targeting sheepshead this is the time of year this is when the final push of big spawners will be around. A fiddler, ¼ piece of blue crab, clam, or small shrimp work well. A Carolina rig/egg sinker rig is effective or small ¼ to ½ oz jigs are good methods too!
The big giant black drum will be around too this month and can usually be caught on the high top of the flood tide on the tips of both rock piles. A ¼ to ½ of a fresh blue crab is the most effective though I have caught many on a peeled jumbo fresh dead shrimp. Typically we are fishing in 36-46ft of water and sometime deeper. Be patient on its not always a huge bite that you see. They have a slow mealy kinda of bite that at times looks like a small fish is pecking on the bait and it's a huge 60lber. Remember these are our spawners and don't make good table fair so I really suggest you put them back. Make sure you have a venting tool handy to release the air from the distended bladders=. This way they can swim back down.
The offshore party grounds should still be holding good numbers of snapper, sea bass, ringtails, sheepshead, and some trigger fish. Check the regs for the legal limits as our snapper are still closed.
The beach fishing should start to pick up so begin to look for pogie pods to show if it's a particularly warm month. Pogies mean big predators like bull reds, triple tail, sharks, Spanish, and cobia. The pogies, though at times scattered, have been around all winter and warming seas will make them school tighter.
Capt. Kirk is a Charter guide with over 34 years of local knowledge and can be reached at www.Enterprisefishingcharters.com or call 904-241-7560/904-626-1128 for more info on a charter. Join us each Saturday on the Outdoors Show radio program for forecast, tides, and reports all over the First Coast on 1010am or 92.5fm.