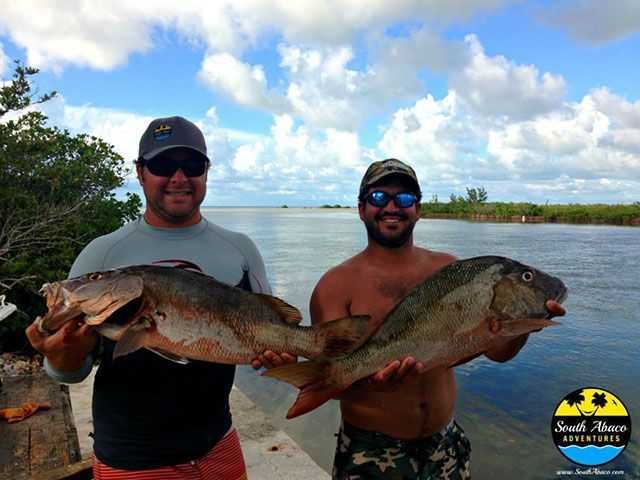 [dropcap]T[/dropcap]he month of August and it's the opening of the "crawfish" season is now behind us—we are now into the heart of hurricane season. Fingers crossed that we are blessed with last year's miracle of a slow hurricane season! Some of the South Abaco Adventures crew will take some down time during the months of September and October. The fishing is traditionally slower but there are no lines during these months of the year anywhere across Abaco and the Bahamas. Our team will keep our focus on the main target on the flats for bonefish, permits, tarpon, snappers and the barracudas.
Inshore trolling has been our focus of the summer and Capt. Hugo Knowles of our staff has been extremely successful having caught several cubera snappers in the 15-to-25-pound range being caught on Islander and ballyhoo combinations. We have also been trolling the Alien lure made by C&H Lures of Jacksonville, Florida. You will also always find a lipped plug in our spread, typically a Rapala Magnum or Manns Stretch 30.
Bottom fishing has been on fire over the last half of summer. Lane snappers have been our primary target, but also a steady catch of yellowtail and mutton snappers. The water is so warm that we have been trying our hand at bottom fishing in depths greater than 60 feet mostly in the 80-to-100-foot range. At times we can surprise the lane snappers this time of year in shallow water.
Our spearfishing clients have enjoyed a steady capture of hog snappers for this month and we expect that to continue into fall.
I hope that you will take the time to come visit us in Sandy Point to enjoy what we have to offer during 2015. Complete packages can be offered ranging from ground transportation to accommodations to meals during your South Abaco stay. I can be reached via email: tony@southabaco.com if you have any questions or need further information regarding our South Abaco inshore and offshore fisheries
Tight lines!