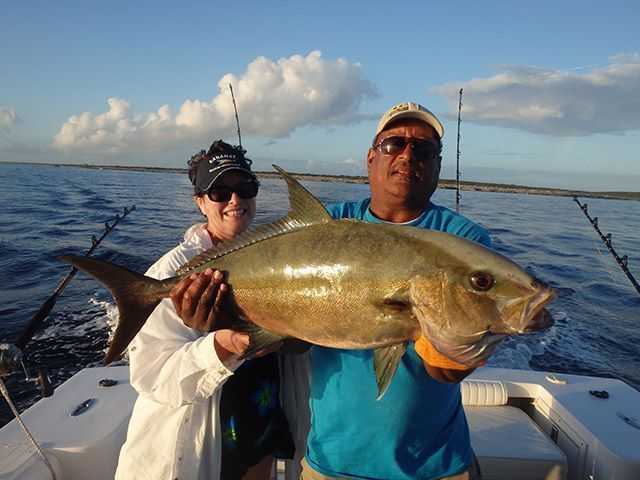 The transition into May and June always brings exciting times to South Abaco, the southeast winds have finally arrived and we already had our first sub-tropical system form.  Fingers crossed for a safe and quiet 2015 hurricane season!  The flats and bay boat teams will be targeting bonefish and permit in the skinny waters. Our 29-foot Mako will be trolling the inshore waters for, African pompano, mutton snapper and blackfin grouper in June. The pilchard baitfish are starting to school and around the reefs the barracudas, as well as mackerels, will begin to run these schools of bait wild.
The inshore trolling will be very productive and we will be targeting species varying from mutton snappers and cubera snappers to mackerels and the lively barracuda—never to disappoint! Have recently switched to PENN International 30 lever drag reels and this month we will pull sea witch style lures to imitate these schooling baitfish. Blue and white, as well as red and black, will be our favorite colors for the month.
On the flats in June, we will still target bonefish and permit with 6- to 10-pound spinning gear and 8- or 9-weight fly rods.  We have been using small jigs tipped with conch meat on the spinning gear and various crab imitation flies for the bones.
When sight fishing the flats, we will target the toothy critters with 15-pound spinning gear tipped with bright green lures made from surgical tubing. The snappers love to eat conch slop or pilchards and have consistently been providing an action packed fight on 15-pounds or lighter tackle in the shallow waters.  As long as the tide is flowing, they should be biting
I hope that you will take the time to come visit us in Sandy Point to enjoy what we have to offer during the summer of 2015!  Complete packages can be offered ranging from ground transportation to accommodations to meals during your South Abaco stay.  I can be reached via email: tony@southabaco.com if you have any questions or need further information regarding our South Abaco inshore fishery.