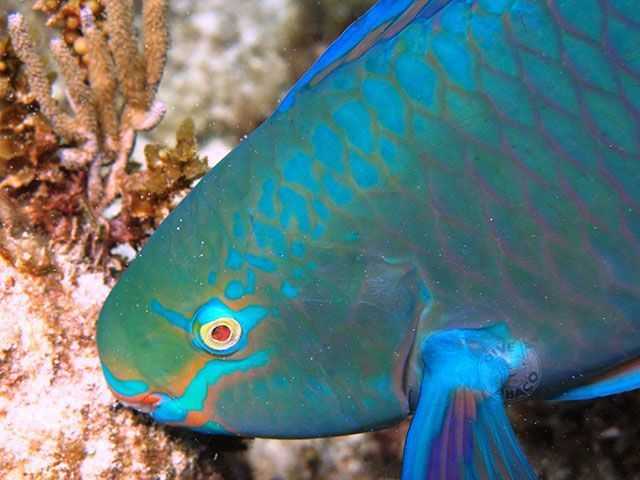 [dropcap]J[/dropcap]une is here and with it, the beginning of hurricane season.  Despite an earlier than normal start, due to the development of Ana, forecasters predict the number of storms this year will again fall below normal. Historically, there have only been four below-normal seasons in the past 20 years. Regardless, most storms do not present a potential problem until late summer or early fall when air and sea temperatures are at their highest.
The dry season is over. Abaco is definitely in a summer weather pattern with increased humidity and mostly calm to light breezes. Afternoon showers tend to be quick moving and help to moderate air temperature, which ranges from 70°F at night to 82°F during the day.
June brings excellent diving conditions and is an ideal time to dive and snorkel the wide range of sites Abaco has to offer within its national underwater parks. The ocean is amazingly clear, with visibility 100-feet-plus. The water is warm and continues to climb, with temperature reaching 83°F by month's end. Sunbeams penetrating the water magnifies colors, both in the coral reef formations and the tropical marine life that calls the ocean home. Diving options are diverse. Whether snorkeling or diving, family and friends can enjoy the water. Wetsuits are optional, being worn more for sun protection rather than to provide thermal insulation.
Silversides are slowly taking up residence in the tunnels and caverns that are so unique to Abaco. Their numbers will increase to a massive level where they will completely fill the swim-throughs with their presence and move with ballet-like precision as divers meander through.
For those unfamiliar with spear fishing in Abaco, the Hawaiian sling is the only approved spear fishing device. Use of SCUBA gear or an air compressor to harvest fish, conch, crawfish (lobster) and other marine animals is prohibited. Spear fishing is not allowed within 200 yards of any land mass around the Out Islands, and spearing or taking marine animals by any means is prohibited within all national underwater parks.
The Full 'Strawberry' Moon occurs on Tuesday, June 2 at 12:19 p.m. EDT.  Moonrise at 8:02 p.m. EDT. Cracker P's 'Full Moon Party' will be celebrated on Wednesday, June 3 on Lubber's Quarters.
Summer 2015 officially arrives on Sunday, June 21 at 12:38 p.m. EDT.
Safe travels, we look forward to sea'ing you soon.