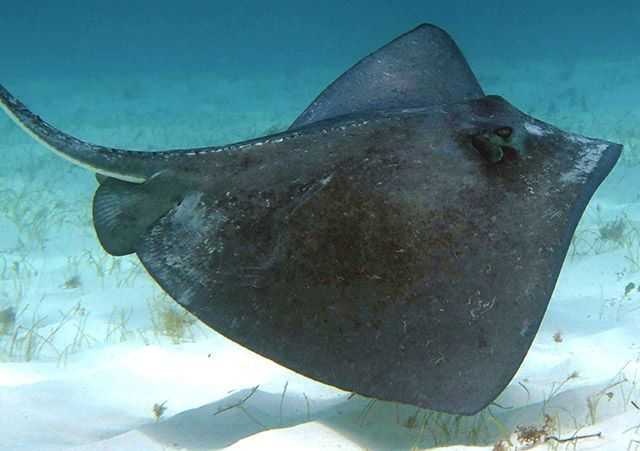 In May, we expect clear, sunny days and low humidity with an average high of 82°F. The nights remain cool and pleasant averaging a balmy 70°F. Winds are light and variable and seas are calm. Ocean temperatures are on their way up reaching 80°F by month's end. Divers are wearing 3mm full and shorty wetsuits, some are wearing none. As temperatures rise, the chances of rain will increase bringing the occasional thunder boomer. Fortunately, showers are over almost as soon as they arrive.
Visibility seems endless, allowing the sunlight to reflect the incredible colors of the reef or dance off the white sand sea floor. Marine life abounds and diving is diverse. We have been told by many guests that the reef system in Abaco far exceeds their expectations and previous diving experiences. A typical dive will include frequent sightings of turtles, sharks and rays along with schools of Bermuda chub, blue tang, jack, ocean surgeonfish, parrot fish and snapper. Friendly grouper will greet you at several dive sites and small, tropical fish are focused on darting in, out and around incredibly healthy coral heads.
Divers, snorkelers, friends and family can all enjoy the daily excursions together. In many locations, the reef rises to the surface, so snorkelers can watch from above while divers explore below.
If you are not a certified diver, inquire about participating in a resort lesson that will allow you to dive with an instructor. If you are certified, but have grown a few barnacles in the last year or two, we encourage you to take a refresher lesson before or after arriving in Abaco. You will be more comfortable and confident getting back in the water again, and will be able to enjoy the magnificent underwater world the Fowl Cay National Underwater Marine Park has to offer.
Saturday, May 21, 5:14 p.m. DST is the Full 'Flower' Moon. Moon rise is at 7:46 p.m. DST. May, in Abaco, under a full moon… priceless!