by Andrew A. Cox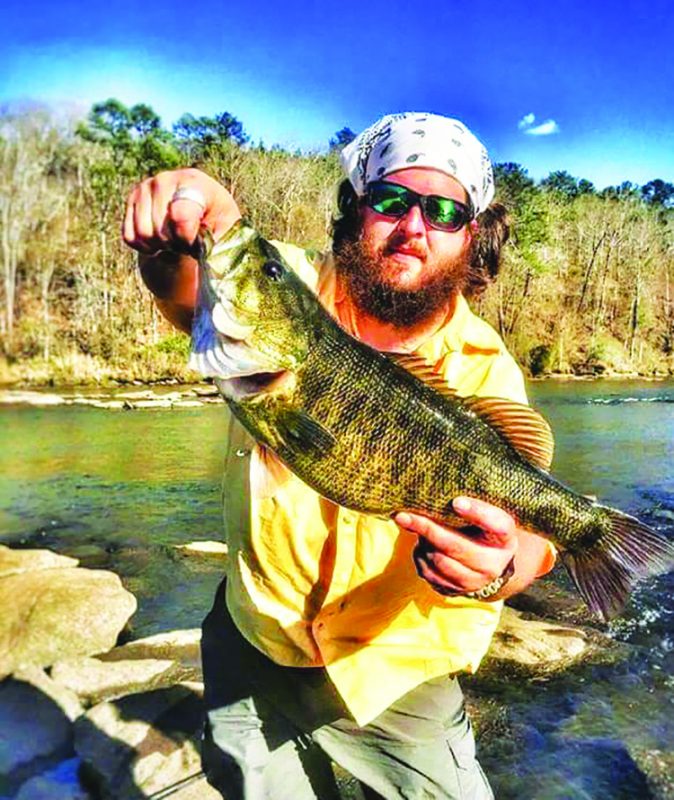 Over the last several years of fishing in Georgia, I notice that it is becoming increasingly common to catch shoal bass. Shoal bass are more likely to make up a portion of your bag of fish in fishing Georgia's waters. This is particularly true if you fish the rocky, flowing headwaters of various reservoirs across the state of Georgia as well as the tributaries of rivers and reservoirs that contain flowing water and shoals. Their range seems to be increasing, particularly within Georgia.
Though native to Alabama, shoal bass are not as commonly found as in the waters described within this article. It is noted in the Alabama Hunting and Fishing Digest, in the major Alabama tributaries of the Chattahoochee River, shoal bass are protected with it being illegal to possess this fish species. Make sure to review these regulations if targeting shoal bass in this state.
Shoal bass are now recognized as a distinct species within the bass family. They have red eye coloring with olive to bronze coloring making them similar in appearance to smallmouth bass. They are scrappy fighters and are fun to catch on rod and reel tackle. The Georgia state record shoal bass is 8 pounds, 3 ounces. I usually catch shoal bass by accident rather than specifically targeting them.  Some common lures and baits that I catch shoal bass include plastic worms, fluke type plastic baits, small Rapala type lures in both the floating and countdown versions, in-line spinners, spoons and small topwater lures. These fish are typically caught with light action spinning equipment. Fly rod anglers catch shoal bass with streamers, poppers and Wooly Buggers. The area being fished seems to be more important than the type of bait/lure used in catching shoal bass.
I recently met Jeremy Bagley from Columbus, Georgia. He specifically fishes for shoal bass in the waters of West and Central Georgia. He targets shoal bass in the Chattahoochee and Flint Rivers in West Central Georgia, and the Ocmulgee River in Central Georgia. He also fishes the major tributary streams of these rivers in West Central and Central Georgia. Jeremy fishes these waters both by wading as well as from a kayak.
Jeremy's approach to catching large shoal bass seems to be somewhat novel in nature. Though he will use trick worms, paddle tail Flukes and spoons in catching these fish, his go-to baits are large swimbaits. These swimbaits resemble baits that you might use in saltwater fishing settings for larger fish (Stalker Swimbaits, Fish30Acre). These swimbaits are jointed and have a tight action when retrieved. He uses bait casting equipment with rods over 7 feet long with lower gear ratio bait casting reels. The fish that Jeremy catches with these baits and equipment is impressive, far exceeding the shoal bass that I catch by accident on spinning equipment and smaller lures.
Shoal bass are a fun fish species to catch and represent a fun departure from catching largemouth and spotted bass. Both the Alabama and Georgia state records for these fish are under 9 pounds. You never know; you may go down in the record book for catching a shoal bass of a lifetime. This is Jeremy Bagley's goal, which he seems well on his way to attaining. Remember to practice catch and release angling with these fish.
Author's Note: Dr. Andrew Cox is a contributing writer to outdoor publications and newspapers. He is a member of the Georgia Outdoor Writer's Association. Dr. Cox financially supports his fishing habits as Professor Emeritus at Troy University, Phenix City, Alabama. He may be contacted at andrewtrout@aol.com.