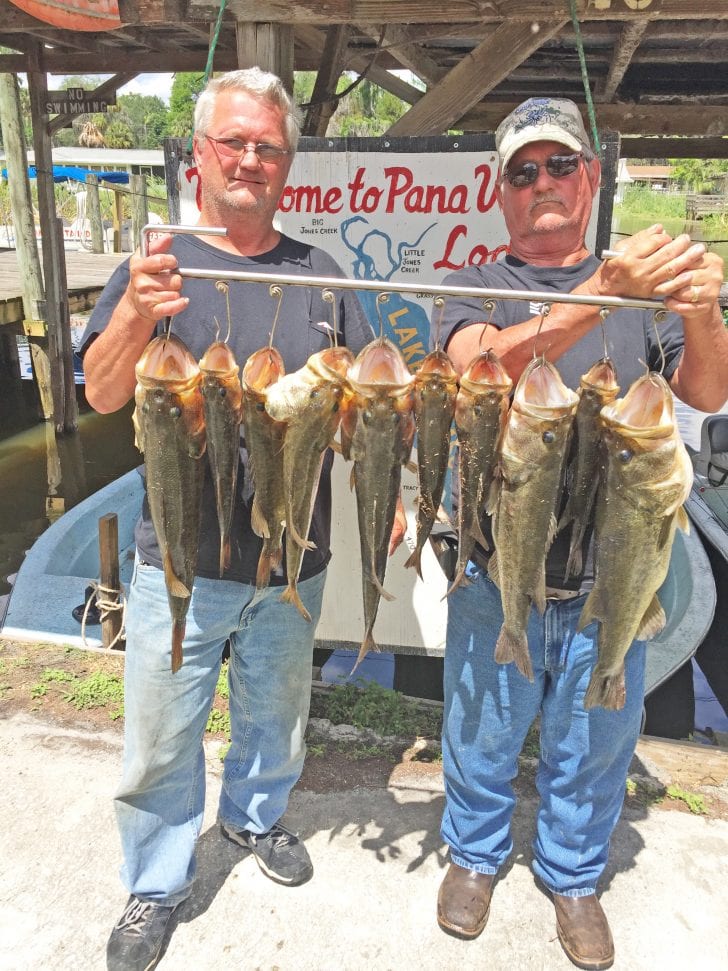 The full moon in early April (March 30 to be exact) was an excellent several days of shellcracker fishing. The fish average size was as big as I have seen in years. The fish bedded on the East side of the lake between shell point and Coleman Landing. I saw several fish in the 2 lb. range and I haven't seen that in years. The average limit catch was over a 1 lb. average. The Drinkwater family from Alabama were catching limit catches using worms. The water is a little too dark to see the beds but they were able to smell them out. The Jackson "clan" from Baker Florida caught some nice catches while they were here fishing in the Outlet.
Chris and Jack Albritton caught their limit of bass in early April using Rat-L-traps. They had some nice fish up to 7 lbs. They were all released.
May best bets: Shellcracker and bluegill fishing should be real good around the full and new moon. The water level is up so you shouldn't have any trouble getting around. Red worms and night crawlers will work best on the shellcrackers but the bluegills may like a cricket as well.
Bass fishing will be steady and with the limited vegetation I would try Rat-L-Traps and crank baits as well as plastic baits. June bug and red shad might work well and when the water clears go back to Watermelon seed and Watermelon Red.
Submitted By: Jim Veal Jr.
Pana Vista Lodge
Lake Panasoffkee, Fl.
352-793-2061